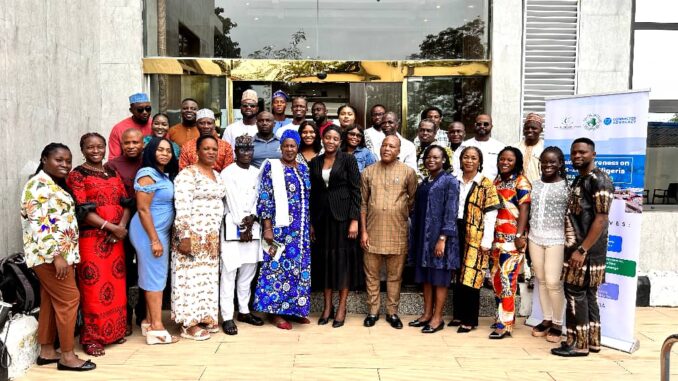 In the quest for a sustainable future, Centre for 21st Century Issues (C21st), International Climate Change Development Initiative (ICCDI), and Connected Advocacy (CA) unite forces under the banner of the Raising Awareness on Net-zero in Nigeria (RANZNigeria) initiative in calling on the government and the communities to mitigate climate change impacts.
The dialogue held in Abuja, stakeholders came together to raise awareness about climate change and greenhouse gas emissions in Nigeria.
Titilope Ngozi Akosa The Executive Director of Centre For 21st Century Issues.
highlighted the formidable challenges posed by climate change in Nigeria.
She emphasized that climate change stands as the most pressing issue facing humanity in Nigeria.
Astonishingly, Nigeria has been classified as one of the top ten countries most vulnerable to the impacts of climate change, according to the 2020 and 2021 Climate Change Vulnerability Index.
Despite contributing only 1.0 percent of global emissions, Nigeria bears a disproportionately high burden of vulnerability.
However, the nation remains committed to taking robust climate action, employing both mitigation and adaptation strategies.
One notable initiative is the development of National Determined Contributions (NDCs).
Nigeria has taken significant strides towards achieving carbon neutrality by 2060.
This ambitious goal is supported by a slew of policies, strategies, and action plans.
According to the energy transition plan, an estimated $4010 billion, with an annual requirement of $10 billion, is earmarked for transitioning key sectors.
These sectors include cooking, transport, oil and gas, industries, and power, all shifting towards cleaner technologies like electric and solar cooking, e-mobility, low-carbon industrial processes, and renewable energy in the power sector.
Non-governmental organizations have rallied behind this cause, calling on the government, civil society organizations (CSOs), media outlets, traditional rulers, religious leaders, and other institutions to initiate campaigns against deforestation.
Furthermore, they stress the importance of sensitizing communities about the dangers of bush burning and deforestation.
To counteract these challenges, they advocate for large-scale tree plantations and the adoption of systematic digital agricultural farming techniques.
The representative of the Department of climate change of the federal ministry of of environment Sir. Uwem Jonah Useh acknowledges that achieving net zero is an arduous challenge.
However, Nigeria is not alone in this endeavor.
Some of the world's most talented teams and cutting-edge technologies are actively working to address climate change.
One such initiative is the construction of the world's largest Direct Air Capture facility by 1PointFive.
Anticipated to be operational by mid-2025, this 500,000-tonne facility represents a significant leap towards a sustainable future.
The director re-emphasizes the urgency of the climate change issue, stressing that our environment is no longer safe.
He urges the government and CSOs to unite in preventing further carbon-induced effects in society.
Professor Chuks Okereke, speaking at the gathering, highlighted the pivotal role of civil society organizations (CSOs) in achieving climate justice and accountability.
Curbing global temperature rise to 1.5°C by 2050 necessitates unwavering commitment, partnerships, and significant carbon removal efforts.
Organizations like 1PointFive are collaborating with leading entities to forge practical pathways toward decarbonization.