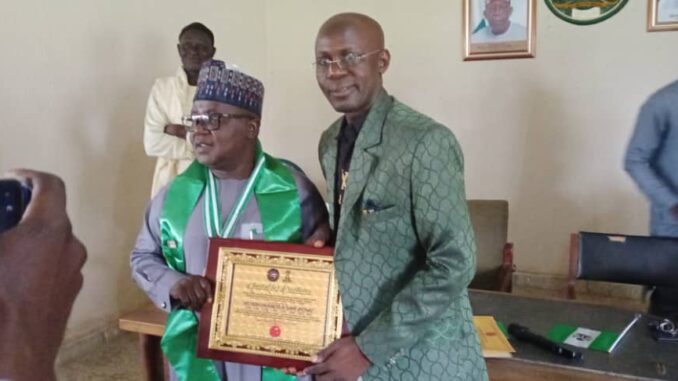 In the ever-evolving landscape of online visibility, Chairman Zango Kataf Local Government Area, Mr. Francis Sani Zimbo, remains committed to unwavering truthfulness and impartiality, regardless of challenges faced.
This conviction was reiterated on a Monday, right after his induction as a fellow of the Institute of Criminal Justice and Criminology Administration, a ceremony held at the Local Government Secretariat on Zonkwa.
Mr. Francis Sani, in addition to his recognition as the best-performing and esteemed Chairman of the Middle-Belt, as well as a security-conscious leader in North-Western Nigeria, is also acknowledged as a human capacity developer and a champion for the marginalized by the "G4 Media International" group.
Expressing gratitude to the Legislative Council, local government management, and staff for their unwavering support, he emphasized their role in his achievements.
While accepting the award with humility, Mr. Francis Sani dedicated this honour to the entirety of the local government community, who entrusted him with their leadership and pledged to remain dedicated to their welfare.
With an eye toward comprehensive growth, he actively encouraged constructive feedback and suggestions to foster the area's development.
Anticipating this accolade, the CEO of G4 Media International, Mr. Emmanuel Stephen Ondaje, shared the group's mission of bridging societal gaps and collaborating with over twenty media organizations.
This network identifies exceptional individuals, particularly elected representatives, who have exhibited excellence in their respective domains.
The purpose is to inspire and incentivize continued achievements.
The selection of the Zango Kataf local government for this recognition was rooted in its substantial influence on youth empowerment, employment generation, and national unity.
Additionally, the area's remarkable recovery from prolonged conflicts resonated with the award's theme.
Representing the well-wishers of the local government, Mr. Yusuf Wayo lauded the award as deserving, commending Mr. Francis Sani for his astute governance that has elevated the region's status.