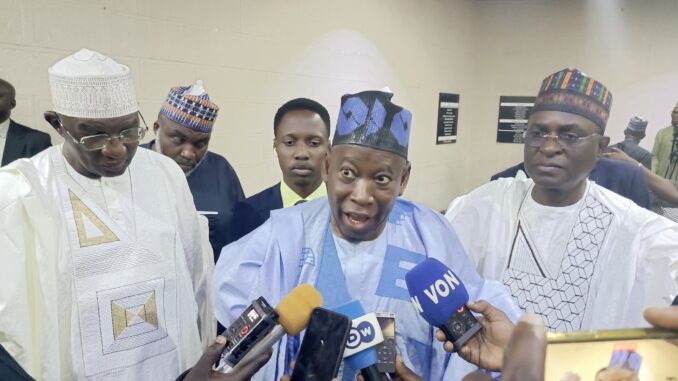 By Abubakar Yunusa
A coalition of pastoralists' associations led by the Miyetti Allah Cattle Breeders Association of Nigeria (MACBAN) seeks to work in harmony with the government to address challenges facing pastoralists in Nigeria.
There has been a plethora of ideas and policies both at the state and federal level, regarding how to reduce reoccurring conflict between farmers and herders in the country.
On the agenda made available to journalists at the meeting yesterday in Abuja,was to discuss the way forward and ensure a peaceful coexistence with host communities.
The former Governor of Kano State, Dr Umar Ganduje stated that we want to convince ourselves that we are committed to peace and stability in Nigeria so that we can also benefit from the enabling environment provided by federal governments .
According to him,"We are requesting the government provide an enabling environment that is a sustainable livestock production reform.
" If herdsmen can agree for a modern system of livestock production, there is a need for settlement and settlement requires land and after being resettled, there are other services provided to the communities of herdsmen.
" Livestock laboratories to be built, markets to be provided. sales of milk to be enhanced and also security to be provided education for the children of the husband, this is a complete way of life and by doing so ,we are improving the livestock production in Nigeria.
"But this cannot happen until the livestock production is reformed and this cannot happen until the Herdsmen themselves are convinced that they can adapt to the new system of production and this will eventually bring peace and stability".
Speaking further, he said the last administration try their best to solve the problem but their best was not enough, that is why when I was the Governor of Kano State, we organized a national conference involving many critical stakeholders,and we came up with a blueprint which will soon be presented to Mr president.
In order for that document to be implemented, herdsmanship must change in narratives and settle because if you are settled, there would be an opportunity for you to educate your children.
"If all our children are educated we couldn't see all these problems but for them to be educated, we need to be settled because education is much more than we think off.
What are looking for after changing of attitude is taking advantage of enabling environment provided by government then we can start generates revenue livestocks
In his welcome remarks, the former Bauchi governor raised concerns about recent developments where herdsmen carried AK-47 rifles to defend themselves and some who have also deviated into using such weapons for criminal offenses.
He also alluded to how cattle routes and grazing areas had been taken over as a result of growing population and blamed the government for their alleged inaction.
Yuguda explained that "My personal interacting with some the groups in the bush, those that interacted with are not robbers, bandits, boko Haram, Shi'tes but they're Fulani ethnics militias , those are the one I went to see inside the bush of Zamfara State.
"Why I called them Ethnics militias is because of their parents, wives and children, so conflicts between Hausa extraction and Fulani.
"Most of them are innocent and their houses are raided, cattles are rustle. They don't have anything at hand but to pick up guns, and to the bush and start fighting themselves. If they get to know that a Fulani has been kidnapped, they are also kidnapped".