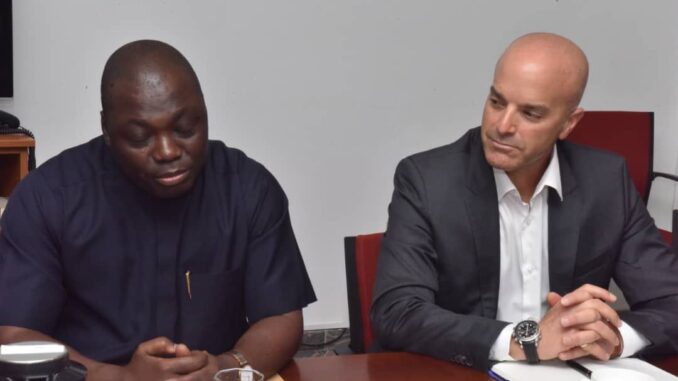 In a bid to harness the untapped potentials of Taraba State in solid minerals, agriculture, and renewable energy sources, Governor Dr Agbu Kefas has expressed the Taraba State Government's commitment to strengthen bilateral cooperation with the German embassy in Nigeria.
Enhancing Academic Excellence: Taraba State University SUG's Commitment
The governor, alongside a team of government officials, recently engaged in an interactive session with the German Ambassador, Ms. Annett Gunther, in Abuja on the 11th of July 2023. Highlighting Germany as a friend of Nigeria, Governor Kefas expressed optimism that the German government would contribute to the development of the state's natural resources.
Promoting gender sensitivity in his administration, Governor Kefas informed the German Ambassador about the appointment of six women into the 21-member cabinet. These women were deliberately assigned sensitive and important ministries, aligning with the administration's social engagement and child development agenda.
Recognizing the German Ambassador's advocacy for women's liberation, Governor Kefas expressed his satisfaction, emphasizing the shared values between his administration and Germany's stance on gender equality.
One of the primary objectives of the collaboration is the responsible exploitation of Taraba State's solid mineral resources in an environmentally sustainable manner. To this end, the governor recently signed an executive order to suspend all forms of mining in the state. Seeking the assistance of the German government, Taraba State aims to leverage Germany's expertise in resource management and sustainability.
Ms. Annett Gunther, the German Ambassador to Nigeria, congratulated Governor Kefas on his recent election and assured him of the embassy's readiness to support the state. Drawing from her experiences in other African countries like Kenya and Botswana, Ms. Gunther expressed her commitment to establishing greater synergy with state governors in Nigeria.
Moreover, the German Ambassador pledged to facilitate improved cooperation between the government and private German companies. This collaboration would foster a deeper understanding and cooperation in trade and industry between Nigeria and Germany.
As Taraba State embarks on this promising partnership with the German embassy, the stage is set for unlocking the vast potential in solid minerals, agriculture, and renewable energy sources, thereby bolstering the state's economic growth and sustainable development.