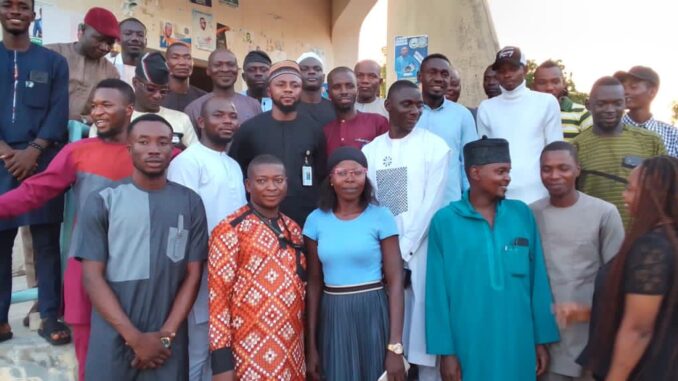 By Abubakar Y Ojimaojo, Abuja
The Taraba State University Students Union Government (SUG) is wholeheartedly committed to working hand in hand with the institution's governing council to enhance the academic standard and bring glory to the university.
Comr. David Bazoka, the newly elected president of the SUG, made this vow during his acceptance speech on Saturday.
He assured that his administration would strive to foster student cooperation with the governing council, ultimately attracting developmental ideas that will uplift the university's standard of learning. The goal is to position Taraba State University among the leading institutions of higher education globally.
In addition to their dedication to academic excellence, the SUG president, Comr. David Bazoka, also emphasized the importance of student welfare.
He pledged to run an inclusive administration that will prioritize the well-being of the students. This approach ensures that the university community thrives in an environment that caters to their needs, fostering a conducive atmosphere for learning and personal growth.
"I am deeply grateful for the trust you have placed in me as the SUG president of this esteemed university. I want to assure the university's authority that I will exert every effort to ensure that students wholeheartedly cooperate with the governing council, fostering progress and prosperity for the university."
"My ultimate desire is to propel Taraba State University to the ranks of the world's top institutions in terms of academic excellence.
" To achieve this, my administration will promote an inclusive government that benefits both the university and its students," promised Comr. Bazoka.
Also speaking, Mrs. Rebecca Irani, the Dean of Student Affairs at Taraba State University, urged the newly elected student government to exhibit an attitude that presents the university in a positive light.
Rebecca,represented by Mr. Mika Yusuf, the Students Affairs Officer of the university, she encouraged the SUG leadership to prioritize the university's interests for the glory of Taraba State.
"The university's authority is determined to collaborate closely with the SUG, and as such, you must be mindful of the university's image and focus on endeavors that promote its reputation, all in the best interests of Taraba State," emphasized Mrs. Irani.