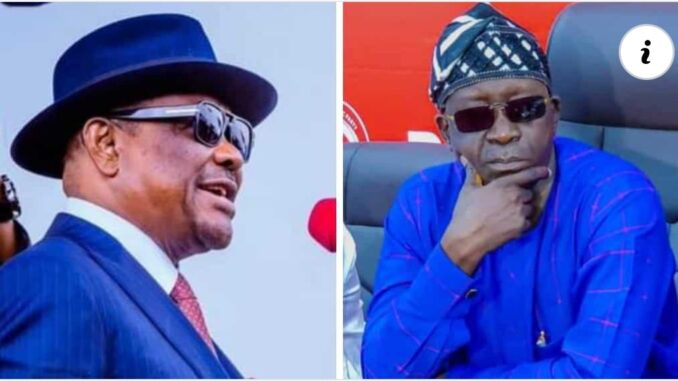 By Anayo Onukwugha, Port Harcourt
Rivers State Governor, Nyesom Wike has berated the Peoples Democratic Party National Chairman, Senator Iyorchia Ayu for failing to deliver his polling unit and his state, Benue for the party
Speaking during a media chat with select journalists in Port Harcourt on Wednesday, Wike said Ayu could not even win his polling unit for the PDP.
The governor said: "What can the National Chairman tell me now when he could not deliver his state? He could not deliver his polling unit?" he queried.
"A small circle of people, you can't control them. You lost and you say you are the National Chairman. If you have lost it in our states, it is the states that will make the 'national' thick. Without the state, you can't be strong."
During the interview, he denied working against the Labour Party presidential candidate, Peter Obi in the 25 February presidential poll.
Wike stated that it is unfortunate that the presidential candidate of Labour Party (LP) Peter Obi claimed he stood against him during last month's presidential election, describing the LP candidate as being ungrateful.
The governor also recalled how he picked him to be the running mate to Atiku in the 2019 general elections, even against the wish of some notable PDP chieftains.
He said: "I take exception to Peter Obi's comments that I came out against him. People are not being sincere, people are not appreciative.
"In 2019, ask Peter Obi, I was one of the teams that chose Obi to be the Vice Presidential candidate of Alhaji Atiku Abubakar. When we met at Abubakar's house, he said these are the names, I will choose Obi.
"Obi was invited while we were at Saraki's house in the night. I was fought by people like Ekweremadu, Umahi, and Pius Anyim. Every blame was on me, why will I be the one that will say Peter Obi should go?"