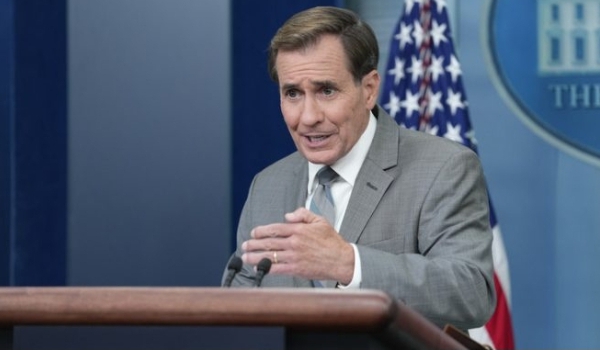 In a move set to impact international relations, the United States is poised to impose constraints on $6 billion worth of Iranian assets, which are scheduled to be released as part of a negotiated prisoner exchange.
This arrangement is expected to coincide with the release of five detained American citizens by Tehran.
Analyzing this pivotal agreement, John Kirby, spokesperson for the White House National Security Council, emphasized the United States' vigilant oversight regarding the allocation of these funds.
He underscored ongoing discussions and stressed that finalizing the deal remains a work in progress.
Kirby clarified that the funds are earmarked exclusively for essential supplies like food, medicine, and medical equipment devoid of any potential dual military application.
Furthermore, he outlined a comprehensive due diligence process involving input from the US Treasury Department to ensure adherence to stringent standards.
Media outlets have widely reported on this development, revealing that the frozen Iranian assets will not only be unfrozen but also that five incarcerated Iranians will be released from US penitentiaries.
President Joe Biden is said to have granted preliminary approval to this arrangement.
Recent White House announcements indicate that the five Americans detained in Iran have transitioned to house arrest, with four of them having recently regained their freedom after being incarcerated in Tehran's Evin Prison.
The identified detainees are Siamak Namazi, Morad Tahbaz, and Emad Shargi, while others have requested anonymity.
The frozen Iranian assets, currently held in a restricted South Korean account, are poised for relocation to Qatar as stipulated by the agreement.
This transfer would enable Iran to access these resources.
Kirby affirmed that once an agreement is finalized, there will be no obstacles to the transaction.
US Secretary of State Antony Blinken stressed that the prisoner exchange will not result in any sanctions relief for Iran.
Instead, the country will regain access to its own funds, with these assets explicitly earmarked for humanitarian purposes.
Iran has consistently advocated for the lifting of economic sanctions imposed following President Donald Trump's withdrawal from the 2015 nuclear accord involving Iran, the United States, and other global powers.
While discussions regarding restarting the nuclear agreement in exchange for sanctions relief have reached a standstill, Kirby expressed the United States' willingness to welcome any proactive measures Iran takes to curtail its nuclear activities.
The ongoing prisoner exchange discussions are unfolding against the backdrop of heightened tensions in the Persian Gulf.
The United States has recently authorized the deployment of a range of military assets, including F-35 fighter aircraft, guided-missile destroyers, and other naval vessels.
The US Navy disclosed that approximately 3,000 American marines and sailors are stationed in the region to act as a deterrent against perceived provocations by Iranian forces, citing instances of harassment and seizures.