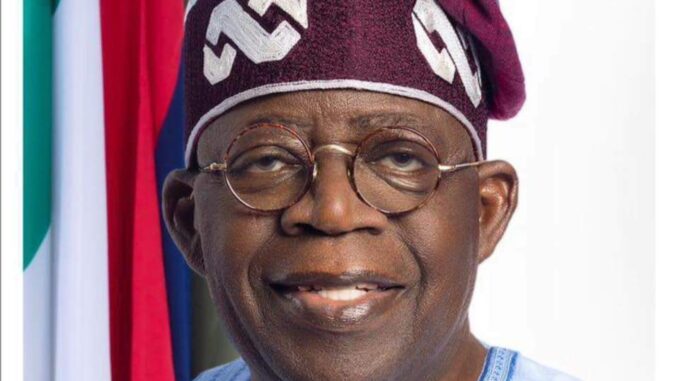 The Tinubu supporters, under the umbrella of confederation of APC Support Groups and Tinubu Shettima Support Network (TSN) has urged President Bola Ahmed Tinubu to focus his attention on providing parliatives to Nigerians, tackle insecurity and revive the industries.
Speaking at a press conference, the Director-General, Confederation of APC Support Groups and National Chairman, Tinubu Shettima Support Network (TSN) Engr Kailani Muhammad said Nigerians have given their mandate to Tinubu adding that no one will take it away.
According to Kailani, the European Union (EU) should focus on activities that will help the developing countries and not their wealth adding that they should not interfere in Nigeria's democracy.
On the issue of palliatives, Kailani said the palliative initiatives of Mr President to cushion the effect of the fuel subsidy removal is most welcome, adding that it should be strictly monitored to avoid abuse by unscrupulous government officials.
"Again, setting up a committee to run a market survey to determine forces that hike up the prices of commodities, goods and services and provide a genuine template for prices is a step in the right direction. Nigerians are groaning under severe hardship and we hope this synergy will bring succor to our teeming masses," Kailani said.
On insecurity, Kailani, who said security within the West – African Sub- region is of utmost importance to the development and well- being of the Nigerian citizen and the state, added that President Bola Tinubu should vigorously explore all avenues for cooperation with regional leaders that can strengthen the security architecture within the region.
"This will go a long way to counter terrorism, small arms and weapons proliferation among member states, while also strengthening trade and commerce that will impact positively on our GDP," he said.
Speaking on the revival of industries in Nigeria, Kailani said industries is one major factor that should be treated with the urgency it deserves as a platform to generate employment and create wealth to the teeming masses.
"In a nutshell, Mr President Sir, you are moving on the right track and your landmark achievements this short while in office, is a clear indication and serves as catalyst for development of our nation. Despite the distractions, be assured that Nigerians and indeed West Africans and Africans are behind you," Kailani said while congratulating Tinubu on his emergence as the Chairman of the Economic Community of West African States (ECOWAS).
"We wish you success, wisdom and good help while you direct the affairs of West Africa, and May the Almighty God crown you with many more achievements," Kailani added.
EUROPEAN UNION
We are aware of the distractions by the European Union (EU), who are hell bent on casting aspirations on the 25th February Presidential election in Nigeria. The EU as a global empire has the right and obligation to dabble into issues such as the Russia/ Ukraine, but not into domestic matters like an election in Nigeria. There are critical crises areas around the world that need urgent attention of the EU, not self-proclamation of a jurist.
Let us be reminded that, the argument of the FCT as a factor to be won by a presidential candidate to validate his election does not hold water. A similar argument surfaced in 1979 between late Alhaji Shehu Shagari and late Chief Obafemi Awolowo, about what constitutes a 2/3 majority of 19states of the Federal Republic of Nigeria. The case was thrown out by the courts as an insufficient ground to void a presidential election.
We want restate here that Nigerians are for peace and we do not want or envisage some foreign imperialists to foment grounds that will lead us to war. As far as we are concerned, the only interest of external forces in Nigeria is our natural resources which they intend to cart to their countries in the event our center can no longer hold.