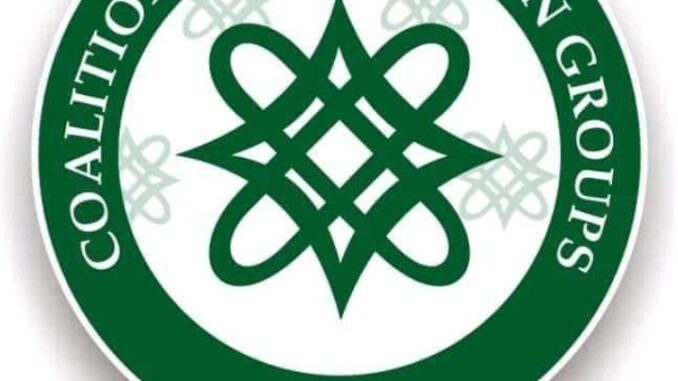 The Coalition of Northern Groups (CNG), on Monday, condemned Nigeria authorities for delay in evacuating Nigerian citizens trapped in Sudan as crisis in the country rages on.
They said that the Federal Government of Nigeria government will be held responsible for any harm to any Nigerian citizen in the conflict in Sudan for not showing real commitment to their evacuation as other responsible governments have done.
A statement by the coalition spokesperson, Abdul-Azeez Suleiman, call on the attention of Nigeria and other leading African nations that are the current escalation of conflict in the Sudan, silence has become complicity and inaction has become no longer an option.
He said: "The Coalition of Northern Groups CNG is extremely saddened and concerned by the reports that about 4000 Nigerians trapped in Sudan have not been evacuated. We are worried also by reports of the inhuman and exploitative treatment those who manage to arrive Cairo and Ethiopian boarders are subjected to, while the Nigerian government appears helpless.
"We find it disturbing that the Federal Government of Nigeria should afford to fail once again, in the statutory responsibility of protecting Nigerians at home in Nigeria and abroad. We are thus worried because a majority of the stranded Nigerians in Sudan are northern Nigerians which perhaps explains the levity and condescension with which the federal authorities are handling the situation.
"We wonder why the sense of emergency applied in the evacuation of Nigerians from Ukraine at the onset of the Russian invasion is not extended to the situation in Sudan. It is otherwise curious why the Federal Government would allow innocent lives to be endangered in a foreign land while Egypt and Ethiopian authorities exploit their situation.
"A responsible and responsive government would by now have reached out to the authorities in Cairo and Addis Ababa to secure easy passage for the stranded Nigerians who have managed to arrive at their boarders."
The coalition further demand action from both houses of the National Assembly to compel the federal Ministry of Foreign Affairs, the National Security Adviser and Nigeria's representative in the AU to ensure urgent and safe evacuation of Nigerians who are mainly northerners trapped between Khartoum, Ethiopia and Egypt.
Adding that, "The CNG hereby categorically condemns the deliberate insensitivity in the handling of the situation of Nigerians in Sudan who are mostly of northern extraction.
"We demand full explanation for the delay in evacuation of Nigerians, mostly northerners, from Sudan while those trapped in Ukraine were treated with sense of urgency and responsibility.
"We urge more action by Nigeria as the mother of Africa in managing the conflict in Sudan and not to abandon a sister African nation to the machinations of evil foreign powers."