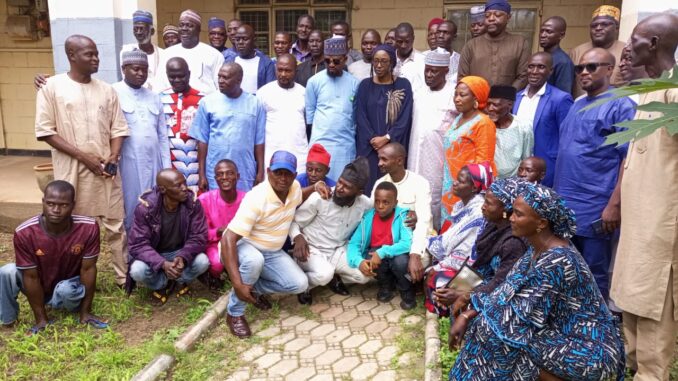 By Israel Bulus, Kaduna
The Kaduna State Commissioner for Finance, Hon. Shizzer Bada has on Thursday called on the People of Southern Kaduna to always support their own who are opportune to serve in government for the development of the region.
Shizzer made the call during a congratulatory visit by Stakeholders and Party Executives of the All Progressive Congress (APC) Kagoma Ward, Jema'a Local Government area over her recent appointment by the Kaduna State Governor, Sen. Uba Sani.
She explained that for Gwong land and the Southern Kaduna region to grow, the people must first unite themselves, appreciate their differences then chart a common front, noting a divided house cannot stand.
According to her, the administration of Governor Uba Sani has the best interest of the people and it has already put some pragmatic steps to entrench democratic values.
" Even though the present administration did not get the required votes from our region but I am sitting here, a Gwong daughter as the Honorable Commissioner for Finance because of the kindness of the Governor's heart.
" Our people must tow the part of a progressive ship rather than jumping into a sinking ship, Shizzer appealed.
She urged the people to identify some of the things that would be done in other to bring economic benefit to the region.
Meanwhile, she further appealed to the people for their maximum support towards the Government of Sen. Uba Sani in other to achieve its "SUSTAIN" manifesto to the people of the entire State.
Shizzer who served as Accountant General of the State under Governor Nasir el-rufai's administration, maintained that Kaduna was among the five best States in terms of Internally generated Revenue (IGR) under the previous administration, stressing the present administration is looking at different ways to improve on its IGR.
Adding, " Sen Uba Sani will be focusing more on rural development to ensure the people feel the impact of the administration.
Prof. Alexander Kure, who led the delegation, said the visit was to felicitate with the Finance Commissioner and commend the Kaduna State Governor for finding one of their daughter worthy to chair such a magnificent office.
Alexander who was a former Provost of the Kaduna State College of Education, reiterated that the visit was also to remind her and His Excellency of their campaign promises to the people of Gwong land and the people of Kaduna State in general.
" The Government should expect their maximum cooperation in achieving their action plan." He assured.
The former Secretary of Contact and Mobilization Presidential Campaign Council North-west Tinubu/Shettima Hon. Peter Tanko said the visit was to commend his Excellency for appointing Shizzer and to draw the attention of the Government to Kafanchan-Kwoi road which is in a very dilapidated state.