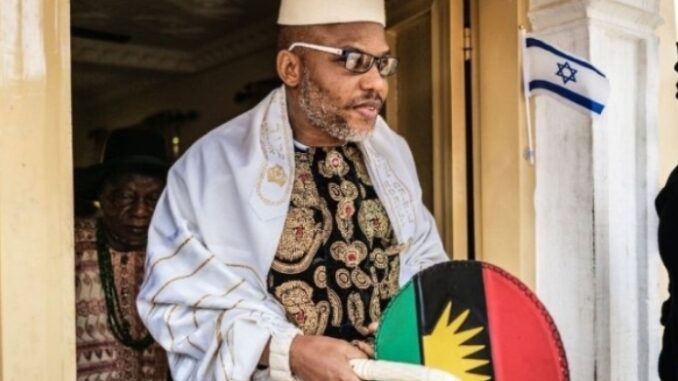 The effective ways to secure the release of Nnamdi Kanu, the leader of IPOB has been revealed by renowned critic Reno Omokri, highlighting the significance of diplomacy and offering insights from historical examples.
Renowned critic, Reno Omokri, emphasizes the pivotal role diplomacy plays in securing the release of Nnamdi Kanu, the leader of the Indigenous People of Biafra (IPOB).
Exploring historical instances, Omokri highlights the futility of employing force and damaging properties in the Southeast to compel the government into releasing Kanu.
Instead, he underscores the effectiveness of diplomatic negotiations in achieving desired outcomes.
Yoruba's Diplomatic Approach: A Paradigm Of Success
Drawing from Nigeria's history, Omokri recalls the imprisonment of Moshood Kashimawo Olawale Abiola (MKO Abiola) during the Abacha regime.
The Yoruba community did not resort to violence or destruction in their quest for Abiola's release.
Instead, they skillfully employed diplomacy, transforming General Abacha into an international pariah through strategic diplomatic maneuvers.
This mounting pressure eventually compelled Abacha to offer Abiola bail, a gesture Abiola refused.
Diplomatic Triumph In Kano: The Power Of Respectful Dialogue
Omokri sheds light on the release of Mohammed Abacha, who spent three years in prison.
Kano elders adopted a diplomatic approach by humbly seeking an audience with President Olusegun Obasanjo in 2002.
Publicly prostrating before the president, they displayed a profound show of respect. The following month, the court granted Mohammed Abacha his freedom. This example underscores the effectiveness of diplomacy when combined with gestures of humility.
Diplomatic Resolution In Niger Delta: Negotiating For Freedom
Asari Dokubo, imprisoned for treason, experienced liberation through diplomacy. Niger Delta elders embarked on a diplomatic journey, engaging with President Umaru Musa Yar'adua in 2007.
Their strategic negotiations and diplomatic appeals eventually persuaded the president to release Dokubo after two years in custody. This instance serves as a compelling testament to the power of peaceful dialogue in securing freedom.
Enlightened Approach: Navigating The Path Of Diplomacy
In his counsel to those advocating for Nnamdi Kanu's release, Omokri implores a shift towards an enlightened and diplomatic approach.
He questions the wisdom of resorting to destructive actions that harm the very region they seek to protect. Omokri asserts that employing intelligence and strategic negotiation is far more effective than the use of force.
Unraveling The Fallacy Of Forceful Methods
Highlighting the fallacy of employing force as a means to achieve their objective, Omokri asserts that no government can yield to violent coercion without compromising its position of power.
Succumbing to force would undermine the government's authority and invite further violence from other factions. Instead, Omokri emphasizes the need to adopt diplomacy, which maintains the integrity and strength of one's cause.