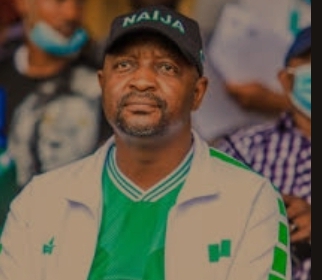 Minister of sports, Sunday Dare on Friday inspected the Moshood Abiola Stadium Training Pitch 1 to examine the level of the development, with barely few weeks to be handed over to the Ministry.
Afrikings Homes Ltd adopted the training pitch to fix the natural grass that has worn out, due to much pressure without consistent maintenance.
With the adoption, Afrikings Homes has joined the growing list of organizations that have keyed into the ministry's Adopt-An-Infrastructure Project, which began three years ago. Maintenance of the pitch for the next two years will be done by Afrikings homes which is part of the agreement of Memorandum of understanding, between the sports Ministry and Afrikings Homes limited.
Speaking during the visit to the training pitch, elated Sunday Dare praised the Chairman of Afrikings Homes, Kingsley Awodi for his passion in sports development and also being one of those who keyed into the initiative.
Dare was satisfied with the improvement in re-grassing the pitch, hoping it will be completed and delivered to the Ministry before the hand over date. He expressed satisfaction with the job done, as the water sprinklers were working perfectly.
"We need to encourage and appreciate a young man like Kingsley Awodi for his passion in sports development, by adopting the training pitch with the aim of putting it in shape for the national teams. They have done a great job here and hopefully it will be completed and handed to the Ministry before the end of this month".
Dare, during the inspection stated the his administration has witnessed rehabilitation of sporting venues and infrastructures such as; the Moshood Abiola National Stadium, and the Daura Township Stadium.
In his remarks, Kingsley Awodi the Chairman Afrikings Homes Ltd said, "You can be rest assured of our continued support. We keyed into the initiative when we saw how abandoned stadium worn new looks and have hosted many FIFA and CAF competitions. We want to be part of history and write our names among those who supported good initiative.
"We shouldn't allow our stadiums to collapse. Nigerians have a very strong love for Sports, so I think we need to complement government's efforts, to ensure that everything works.
"We saw how minister's initiative has turned around the stadium that was once abandoned and now hosting international matches".
"We want to be part of those who supported good initiatives", Kingsley Awodi concluded.