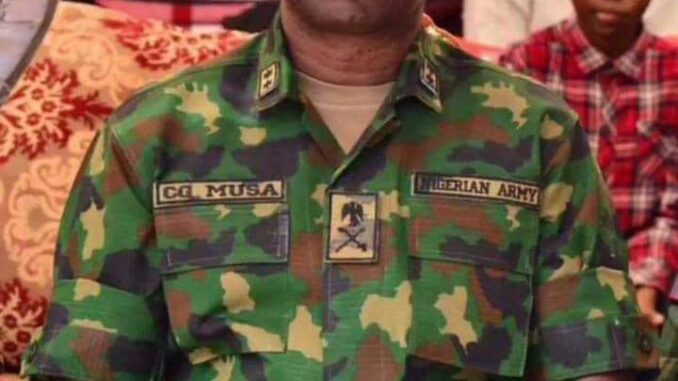 Southern Kaduna People living in the United States of America have called on the new Chief of Defence Staff, Major General Christopher Gwabin Musa to secure Nigerians against further terror attacks. Congratulating the new CDS on his appointment by President Bola Ahmed Tinubu, the group in a letter, signed by its President, Freeman Kamuru, Ph.D, expressed joy at Musa's appointment and his readiness to crush terror attacks unleashed on the country by criminal groups.
According to the letter, "News of your nomination was received with great joy and excitement by many people and communities within and outside Nigeria. Your confirmation today has completed our joy with great anticipation and prayers for your success in leading the Nigerian military in the renewed effort to successfully address the security challenges facing the country".
Expressing confidence in the ability of Major General Musa to lead the charge against monsters of insecurity that is almost shredding the country, the group declared: We are confident that based on your professional competence and patriotic loyalty to Nigeria, you will leave no stone unturned to ensure that our nation is safe and free from terror attacks".
The group called on the CDS to ensure every part of Nigeria is secured henceforth, even as they recalled that Southern Kaduna "received little to no protection from security forces and no relief materials for the thousands of displaced persons from the State or Federal governments.
"It is our hope and prayers that your tenure will mark the beginning of restoration of peace and tranquility in all parts of Nigeria, including Southern Kaduna that appears to have borne the brunt of the heinous acts of terrorism meted by undesirable elements in society with twisted minds and bigotry".
The group also called on Musa to emulate the record of top Southern Kaduna military officers that have occupied the top echelon of the military, stressing that the group has no doubt that "you will excel in the discharge of the solemn responsibilities bestowed on you. Excellence and performance are our trademark qualities in Southern Kaduna, and we pray and trust that the Almighty God will guide and guard you in the service of Nigeria".