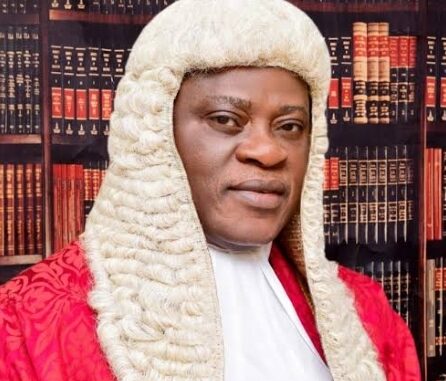 In a resounding denouncement of corruption allegations against Chief Judge Husseini Baba-Yusuf of the Federal Capital Territory (FCT), the Bloggers and Vloggers, Content Creators Association (BAVCCA) has emphatically asserted that these claims are unsubstantiated and mere cheap blackmail orchestrated by anonymous bloggers.
During a recent press conference led by Ikechukwu Chukwunyere, the National President of BAVCCA, a comprehensive address was presented to set the record straight and expose the allegations for what they truly are: false and baseless fabrications.
In response to the allegations that Chief Judge Baba-Yusuf was involved in corrupt practices, BAVCCA President Chukwunyere tackled each point methodically, highlighting the flimsiness of these claims.
BAVCCA took swift action upon the emergence of the report titled "FCT Judges Accuse Chief Judge of Stealing Multibillion-Naira Allowances."
They formed a 5-Man Committee to investigate the validity of these allegations, and the findings were unequivocal – Chief Judge Husseini Baba-Yusuf was found innocent of all the accusations.
The committee's resolution emphasized that these allegations were not only false but were propagated by anonymous individuals with political motives and a penchant for cheap blackmail.
No credible sources were cited, and no evidence was provided to substantiate the claims.
The Chief Judge's role within the FCT court system was clarified. He maintains a relationship of equality and respect with his fellow judges.
He ensures that all judges receive their rightful dues, entitlements, and privileges without discrimination.
Moreover, judges are granted opportunities for training, seminars, and conferences as appropriate, often nominated by external entities rather than the Chief Judge himself.
Addressing allegations of inadequate support staff and equipment in the courtrooms, Chukwunyere pointed out that these claims were based on ignorance.
Each court is adequately staffed, with personnel ranging from ten to twenty individuals, excluding drivers and cleaners.
Additionally, every judge is provided with a laptop equipped with essential legal software and updates.
The alleged allocation of $15,000 per judge was debunked as untrue.
The budget allocated for all High Court activities in the FCT for the entire year of 2023 was significantly less than the alleged sum of N495,000,000.
The accusations of theft were deemed baseless and false.
BAVCCA made a clear call to Nigerians to dismiss these allegations as nothing more than cheap blackmail by individuals with ill intentions towards the judiciary.
The association expressed disappointment that members of their community were being used as tools for spreading unsubstantiated information and warned that bloggers who participated in such activities would face penalties.
The Transformation and Integrity of Chief Judge Husseini Baba-Yusuf:
The article concluded by highlighting Chief Judge Husseini Baba-Yusuf's commitment to transforming the judiciary.
His tenure has attracted recognition and awards, and he has earned the respect and admiration of the Bench, Bar, and judiciary staff.
A disciplinary committee has also been established to address any misconduct.
BAVCCA assured the public of its dedication to upholding the principles of journalism and maintaining impartiality in delivering news to the Nigerian public.
This comprehensive response aims to shed light on the truth behind the allegations and reaffirm the integrity of Chief Judge Husseini Baba-Yusuf.