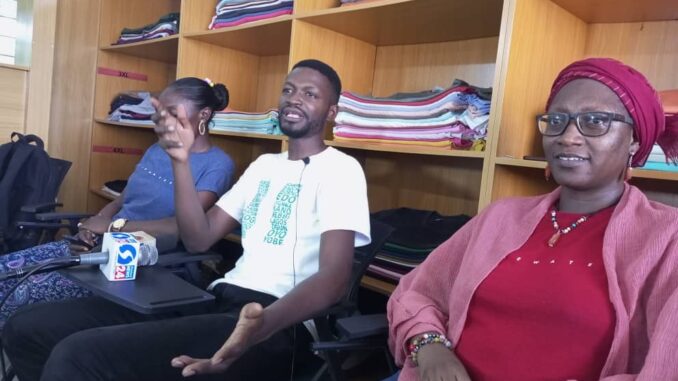 By Israel Bulus, Kaduna
In the quest to promote peaceful co-existence and unity among Nigerians, Arewatees is taking an extraordinary step.
The founder and creative director, Mr. Samuel Okopi, passionately appeals to the government to join hands in supporting their noble mission – distributing 55,000 branded T-shirts emblazoned with symbols of national pride across Nigeria's public schools.
Spreading the Message of Peace through Symbol During a recent media parley held in Kaduna, Mr. Okopi unveiled the heart of Arewatees' mission.
The organization is employing a variety of designs, incorporating national symbols such as the Nigerian flag and coat of arms, to convey a powerful message of peace and unity throughout the nation.
"These designs, adorned with our national emblems, are our way of communicating the message of peace and unity," says Mr. Okopi.
Under the banner of 'My Nigeria Peace Project 2023,' Arewatees aims to impact the lives of 55,000 Nigerians.
This ambitious project intends to distribute 50,000 branded T-shirts for adults and an additional 5,000 for children, all by October this year.
The goal is simple yet profound: to cultivate a deeper love for their country among Nigerians.
"We are on a mission to promote peace globally, and we believe that even casual attire like T-shirts can serve as messengers of unity.
Our inspiration came from the challenges of insurgency in the north-east," Mr. Okopi shares.
The core objective is to instil a profound love for Nigeria by showcasing its beauty and rich history.
"There is so much to adore about Nigeria, and we are dedicated to educating people about the nation's positive aspects.
We want to reignite belief in Nigeria," asserts Okopi.
He further elaborates that this project has the potential to reverse the brain drain phenomenon.
It could encourage even diaspora professionals to consider returning home, attracted by the positive changes taking place.
In a heartfelt message to the youth, Okopi urges them not to lose hope in Nigeria.
He emphasizes the importance of unity in reversing the brain drain trend and building a stronger, united nation.
In closing, Mr. Okopi appeals to the government to sponsor this visionary project.
By doing so, it can play a pivotal role in ensuring peaceful co-existence and unity among Nigerians.
Together, they can turn Arewatees' dream of a harmonious Nigeria into a reality.