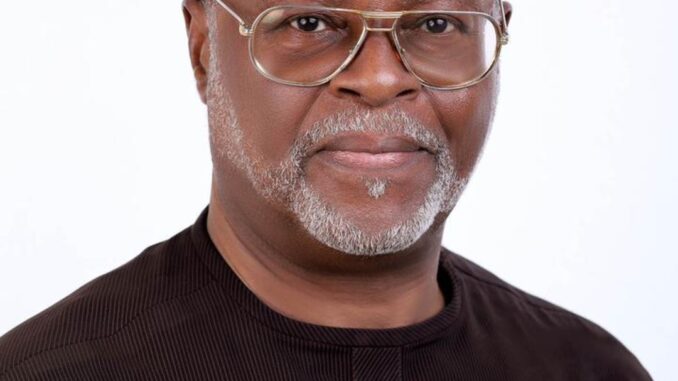 By Kingsley Chimobi
The name and person of Professor Udenta O. Udenta needs  no introduction as it reverberates  having carved a niche for himself as one of Africa's leading scholars.
His bulky masculine body seems in tandem with with the huge intellectual depth and deposit he is endowed with. While he easily intimidates with this rare feature of his, perhaps his most poignant asset is his intellectual prowess. One, many say is rare. A leading scholar, activist and public intellectual in Africa, Udenta is the author of over 21 books, including several groundbreaking works on African literature and culture.
The highly cerebral writer has also served in a number of important public roles, including as a founding member of the National Democratic Coalition (NADECO) and as a consultant to the World Bank, DFID, UNDP, EU Nigeria Mission, USAID, International Republican Institute (IRI), National Democratic Institute (NDI), International Foundation for Election Systems (IFES), Global Rights, Institute for Democracy in South Africa (IDASA), British Foreign Office Parliamentary Group, Friedrich Ebert Stiftung, Konrad Adenauer Stiftung and many others.
Born in Mgbowo, Enugu State, Nigeria, in 1963, Prof Udenta attended the University of Nigeria, Nsukka, where he earned a Bachelor's degree in English and a Master's degree in African studies. He then went on to earn a PhD in comparative literature from the University of Pittsburgh.
After completing his PhD, Professor Udenta returned to Nigeria and joined the faculty of Abia State University. He quickly became a leading figure in the field of African literature as his work was widely acclaimed. In 1993, he published his groundbreaking book, "Revolutionary Aesthetics and the African Literary Process." This book argued that African literature should be seen as a form of political and social activism, and it had a major impact on the development of African literary studies.
Professor Udenta's work has always been characterized by its commitment to social justice and its willingness to challenge authority. In 1998, he was forced to leave his academic career due to his political activism. He had been a vocal critic of the military dictatorship of General Sani Abacha and thus was arrested and detained several times. After Abacha's death in 1998, Professor Udenta was released from prison and went on to play a leading role in the transition to democracy in Nigeria. He then became the pioneer national secretary of the now defunct Alliance for Democracy (AD).
Characterized by its rigor, Udenta's scholarship is known for its originality, and  commitment to social justice. His work has made a significant contribution to our understanding of African literature and culture, and it has helped to shape the course of African history.
This is just as his activism,  has been equally important. He has been a fearless advocate for democracy and human rights in Nigeria and  played a key role in the fight against corruption and impunity. His work has helped to make Nigeria a more just and equitable society.
In the years since, Professor Udenta has continued to be a leading voice in African literature and public life. He has published several more books and  served in a number of important public roles. He is currently the Director General of the African Writers Institute, and he is a Distinguished Fellow at the Abuja School of Social and Political Thought. Professor Udenta has been a tireless advocate for democracy and human rights. He is a true inspiration to us all.
In commemoration of his sixtieth birthday, a national dialogue with the theme: "Location of Intellection and Praxis in Human Subjectivity-The Nigerian Dilemma" is being organised in his honour at the Nigerian Airforce Conference Centre, Kado, Abuja tomorrow in Abuja. This will be followed by the public presentation of his 21 books to mark the 60th birthday celebration events.
Professor Udenta is a true Renaissance . He is a scholar, an activist, a public servant, and a gifted communicator. He is a force for good works and remains an inspiration to this and the coming genration.  We can only wish him well
Happy 60th birthday, Professor Udenta!
Chimobi, a mentee of Prof Udenta, wrote in from Abuja.