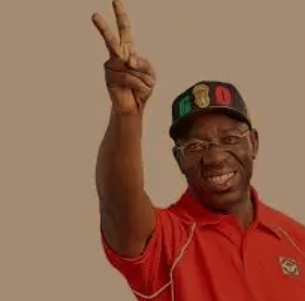 The exceptional sports reforms implemented by Governor Godwin Obaseki in the past six and a half years have elevated the Samuel Ogbemudia Stadium to the status of a preferred venue for the Athletics Federation of Nigeria (AFN) national trials.
The eagerly anticipated 2023 National trials took place in Benin, with a remarkable participation of over 160 athletes from July 5 to 7.
Benin's illustrious stadium has the distinction of hosting the second consecutive AFN national trial, which showcased prominent athletes like Tobiloba Amusan, the world champion, Ese Brume, the silver medalist at the previous World Championships in Oregon, USA, and various other internationally acclaimed athletes.
Under the visionary leadership of Governor Obaseki, the Samuel Ogbemudia Stadium has undergone a remarkable transformation into a state-of-the-art sports arena.
The stadium now boasts a covered arena with a seating capacity of 12,000, equipped with natural turf and upgraded running tracks.
Additionally, the facility comprises outstanding amenities such as tennis and squash courts, an Olympic-size swimming pool, and an indoor suspended gymnasium.
Furthermore, the stadium has dedicated facilities for weightlifting, wrestling, and other combat sports.
To enhance the overall spectator experience, the venue has been equipped with new high-capacity electronic score screens, floodlights, and Video Assistant Referee technology.
In an impressive display of skill and tenacity, Tobiloba Amusan successfully defended her 100m hurdles national title, clocking an impressive time of 12.70 seconds.
Meanwhile, Usheoritse Itsekiri emerged victorious in the men's 100m final, crossing the finish line in a remarkable time of 10.02 seconds, outperforming Seye Ogunlewe and Alaba Akintola.
Blessing Ogundiran triumphed in the women's 100m final, securing first place with a commendable time of 11.50 seconds. Faith Okwose, the AFN Golden League winner, followed closely in second place, clocking an impressive time of 11.51 seconds. Ese Brume, the African record holder in long jump, secured third place with a time of 11.52 seconds.
It is worth noting that these athletes are fiercely competing for the opportunity to represent Nigeria at the prestigious 19th World Athletics Championships in Budapest.
Notably, the Samuel Ogbemudia Stadium also served as the venue for the trials preceding both the World Championships in Oregon and the Commonwealth Games in Birmingham, England, last year.
The success and recognition garnered by the Ogbemudia Stadium, coupled with Governor Obaseki's relentless pursuit of excellence in sports, have solidified its reputation as a world-class facility.
With its impressive infrastructure and ability to host prominent events, the stadium has become a symbol of Nigeria's commitment to sporting achievements.
As Nigeria continues to produce exceptional athletes, it is evident that the transformative sports reforms enacted by Governor Obaseki have significantly contributed to the nation's sporting prowess.
The Samuel Ogbemudia Stadium stands as a testament to the remarkable progress and unyielding spirit of Nigerian sports. The legacy of Governor Obaseki's visionary leadership will undoubtedly propel Nigerian athletes to even greater heights on the international stage.