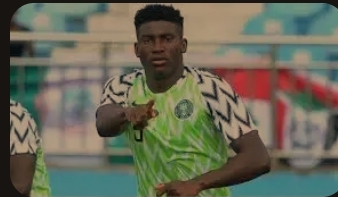 By Tambaya Julius, Abuja
Nottingham Forest recently unveiled their latest adidas away kit, and it has already captured the attention of football enthusiasts.
In preparation for the highly anticipated 2023/24 Premier League season, the club announced the arrival of their brand new attire through an official statement on their website.
The new away strip draws inspiration from the iconic River Trent, which holds immense significance for the club and its loyal fanbase.
The shirt features elegant, wavy light blue stripes adorning the front, symbolizing the perpetual support and unwavering dedication of Forest's fans nationwide, affectionately known as "The Reds."
Last season, Forest narrowly escaped relegation, with their survival owing in large part to the outstanding performances of Taiwo Awoniyi, the Super Eagles striker.
Awoniyi's goal-scoring contributions proved instrumental in the team's fight to remain in the top flight of English football.
In an impressive display of skill, he found the back of the net six times in Forest's crucial final four matches, ensuring their continued presence among the elite.
During the previous English top flight season, Awoniyi amassed an impressive total of 10 goals across 27 appearances for Forest, establishing himself as a formidable attacking force.
His exceptional abilities and dedication to the game have undoubtedly played a significant role in the club's recent achievements.
As the new campaign beckons, Nottingham Forest will embark on their journey with an exciting away fixture.
They are set to face last season's Premier League runners-up, stepping onto the grand stage of the Emirates Stadium.
This challenging encounter will serve as an early test for Forest, as they strive to make their mark on the upcoming season and climb to greater heights.
As they prepare to embark on the 2023/24 Premier League season, the team carries the hopes and dreams of their fans, propelled by the exceptional talent of players like Taiwo Awoniyi.