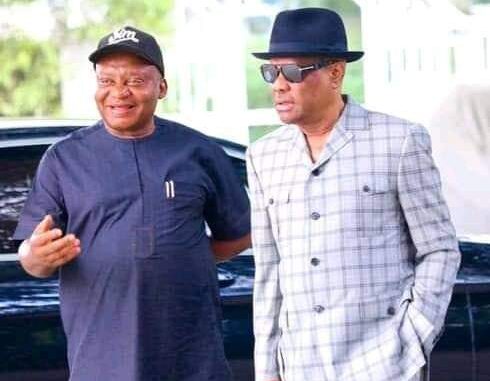 I, Rt. Hon. Dumnamene Robinson Dekor, KJW, DSSRS, member representing Khana/Gokana Federal Constituency/Chairman, House Committee on Host Communities joyfully join the fray of enthusiastic well-wishers celebrating the nomination of former Governor Nyesom Ezenwo Wike as Minister of the Federal Republic of Nigeria to congratulate him.
As an ardent supporter and admirer of former Governor Wike, I could not contain my happiness upon hearing the news of the nomination.
That the news of the nomination of former Governor Wike as a Minister of the Federal Republic of Nigeria coincided with my reappointment as Chairman of the House of Representatives Committee on Host Communities was very exciting and heartwarming.
The ministerial nomination of Chief Barr. Wike was well deserved because the former Rivers State Governor has demonstrated commitment to national development, good governance and equitable distribution of resources.
Governor Wike has been a significant driving force in transforming and developing Rivers State since his tenure as the Executive Governor.
With Wike as a Minister, Nigeria will benefit from his visionary approach, pragmatic decision-making and unyielding dedication to the betterment of the country.
I am confident that Governor Wike's nomination will have a smooth sail at the National Assembly so that he will continue his exemplary service at the federal level.
On behalf of my family and all my constituents, I extend my heartfelt congratulations to former Governor Wike on his well-deserved nomination, and I remain optimistic that his tenure as a Minister under President Tinubu will usher in a new era of progress and prosperity for Nigeria.