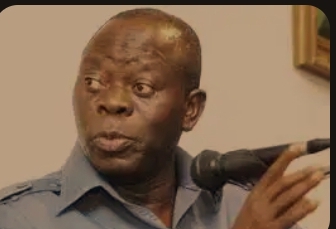 By Tambaya Julius, Abuja
In the wake of a private meeting with the Vice President, Comrade Oshiomhole, a prominent figure in Nigerian politics, shares insights into the purpose behind his visit.
The relationship between Oshiomhole and the Vice President is not only political but also built on a long-standing history within their party, the APC.
As founding governors of the APC, their alliance dates back to the pivotal moment when the decision to establish the party was made at the Vice President's official residence in Maiduguri.
Oshiomhole acknowledges the Vice President's wisdom and counsel, which he seeks to draw from for the betterment of their country and party.
Oshiomhole highlights the depth of his connection with the Vice President, emphasizing their mutual respect and shared experiences.
He emphasizes that this connection allows him to discuss not only issues within his senatorial zone but also matters at the national level, thereby contributing to the betterment of both the nation and their political party.
When queried about economic discussions, Oshiomhole refrains from discussing them, acknowledging that the government is actively working on addressing economic concerns.
He elaborates on the challenges inherited by the government, including a strained economy with a substantial portion of national revenue allocated to debt servicing.
Despite the arduous path ahead, Oshiomhole commends the government's commitment to stabilizing the economy and enacting necessary reforms.
He likens this process to a surgical intervention, acknowledging that while it may be painful in the short term, it is essential for the long-term recovery and prosperity of the nation.
Oshiomhole underscores the government's resolute departure from the status quo, focusing on transparency and merit in economic dealings.
He acknowledges that such changes have brought about their own set of challenges but emphasizes that all solutions come with trade-offs.
Comparing it to medication, he stresses that while every solution may have side effects, the broader goal of economic stability and growth remains paramount.
He applauds the coordinated efforts between the executive branch and the Central Bank, recognizing their alignment as crucial to achieving economic objectives.
Drawing on his experience as a former governor, Oshiomhole reflects on the necessity of making difficult decisions for the greater good.
He implores Nigerians to consider the broader impact of these decisions and trust in the government's ability to navigate through challenges.
Drawing a parallel between visionary leaders and short-sighted politicians, Oshiomhole expresses his confidence that Nigeria is in capable hands.