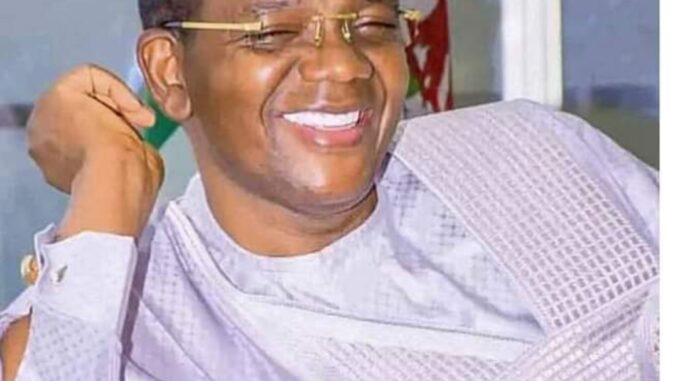 By Suleiman Abdul-Azeez
Negative criticism often focuses on what people cannot or should not do or believe, rather than presenting options or possibilities for action. Such criticisms are usually disabling instead of enabling. In Nigeria, a group of individuals has built a career out of judging others negatively and viewing them as inferior.
These critics have accused every Nigerian administration that followed the previous one of committing every possible sin under the sun, including natural disasters and force majeure. They have discredited Nigerian leaders while ridiculing its institutions, traditions, and customs.
Former Zamfara State Governor Bello Muhammad Matawalle has become the target of these impulsive critics' false accusations since his nomination by President Bola Ahmed Tinubu for the post of minister in the Federal Republic.
These self-appointed enemies have shamelessly rewritten history to portray him in a bad light despite his steadfastness in respectability, integrity, dignity, decorum, tradition, morality, civilization, etiquette, good behavior, politeness, accommodation, and all other positive traits.
Despite Matawalle's dignified reserve and refusal to engage with his antagonists directly through altercations or mudslinging tactics from supporters who remained similarly restrained, he remains subject to relentless attacks by those who seek to goad him into reacting.
The leader among this unscrupulous pack is former Kaduna State Senator, Shehu Sani who recently criticized President Tinubu for appointing Matawalle instead of a retired military officer with experience in records as Minister Of State Defence given current security challenges faced by Nigeria.
Sani's unfair critique was delivered via Twitter using broad unspecific terms that were generalizations rather than specific points designed only to damage reputations without offering solutions.
Criticism such as Sani's is mainly destructive because it does nothing constructive but aims only at tarnishing someone else's reputation without any real basis behind it beyond personal animosity towards their target.
Rationally speaking, the core mandates assigned to Ministry Of Defence – which may be called differently elsewhere but still serves similar functions- do not include commanding troops during battles nor leading them into war; instead they provide administrative support services overseeing welfare needs, budget allocation, defense-related symposia, training, enhancement of capabilities and sophistication in the country's defence industries etcetera representing interests abroad amongst other things and making provision for soldiers' welfare overall.
It is worth noting that most of Nigeria's Defence Ministers since independence have not had any military background or training, let alone being retired generals. The first Minister of Defence after independence, Muhammadu Ribadu, was a politician and his successor, Mohamed Inuwa Wada was a veteran parliamentarian who was given the Defence portfolio in 1965. Iya Abubakar, another Nigerian politician and mathematician held multiple cabinet level appointments including Minister of Defence from 1979 to 1981. Akanbi Mahmoud Oniyangi served as second republic Nigerian Minister of Defence while Rabi'u Musa Kwankwaso held the position from July 2003 to May 2007. Mahmud Yayale Ahmed also served as Defence Minister from July 26th, 2007 to September 8th, 2008, and he was succeeded by Shettima Mustapha from December 2008 to July 14th, 2009, followed by Adetokunbo Kayode who held the position from April 6th, 2010, until June 30th, 2011.
Halliru Mohammed Bello also served as a politician holding the position of Defence Minister from July2011 until June22nd ,2012 when Olusola Obada took over until September13rd ,2013.
Similarly, out of the twenty-eight (28) United States Secretaries of Defense that have been appointed so far ten (10) had no military background whatsoever.
James V Forrestal became the first US Secretary of Defense on September 17th, 1947, under President Harry Truman until March 28th, 1949. Other non-military US Secretaries Of Defence include Ashton B Carter served as Secretary of Defense from February 17th to February 26th, June 30th, and December 18th, respectively. Leon E Panetta served from July 1st to January 24th. Robert M Gates served from January 24th to June 30th. Richard B Cheney served from March 21st to January 20th. Harold Brown served from January 21st to July 2nd. James R Schlesinger served from July 2nd to November 3rd. Neil H McElroy served from October 9th to December 1st. Charles E Wilson served from January 28th to October 8th.
Prejudices exist among us due to lack of knowledge about different communities and individuals which can arise out hatred or disrespect for people with different backgrounds than our own.
Despite these global realities Shehu Sani personifies "prejudices die hard" with his negative criticisms without regard for their toxicity.
Given that national defense is crucial for nearly all countries around the world it is important that each country has a dedicated ministry for managing its Armed Forces.President Tinubu wisely chose new defence ministers Badaru and Matawalle fully equipped with superb capabilities inclined towards giving close personal attention towards Nigeria's national security affairs expecting them to concentrate on defence management rather than formulation basic national security policy.