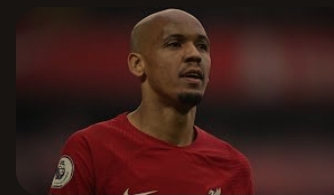 By Tambaya Julius, Abuja
Liverpool's Fabinho has been left out of the squad for Liverpool's training camp in Germany following a substantial £40m bid from Saudi Arabian club Al-Ittihad.
The Brazilian midfielder's potential move has garnered attention, and there are also rumors surrounding Liverpool captain Jordan Henderson's transfer prospects.
However, Henderson will still be traveling with the team to Germany.
On Friday night, Liverpool received the offer for Fabinho, a talented player who has been an integral part of the team since his arrival from Monaco in July 2018.
The decision to exclude the 29-year-old from the touring party was made collectively by the club and the player.
During his time at Liverpool, Fabinho has played a pivotal role in the club's successes, contributing to their triumphs in the Premier League, Champions League, FA Cup, League Cup, and FIFA Club World Cup.
His departure would undoubtedly leave a void in Liverpool's midfield.
In addition to Fabinho's potential transfer, there have been reports linking Jordan Henderson with Al-Ettifaq, a club that recently appointed former Liverpool captain Steven Gerrard as their manager.
Liverpool has not disclosed their asking price for the 33-year-old midfielder, but the speculated £10m offer falls well below the club's valuation, especially considering Henderson's contractual obligations for the next two years.
The potential departures of Fabinho and Henderson raise questions about the impact on Liverpool's squad.
The club will need to carefully assess the situation and make decisions that align with their long-term goals and vision.
As the transfer window progresses, it remains to be seen whether these bids will materialize into actual moves, and how Liverpool will navigate the evolving dynamics of their team.