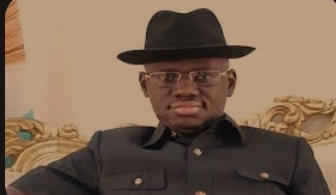 In recent developments, former Deputy National Publicity Secretary of the All Progressives Congress (APC), Comrade Timi Frank, has raised significant concerns regarding the academic records of Bola Tinubu.
Frank has called upon the Federal Bureau of Investigation (FBI) and the Central Intelligence Agency (CIA) to conduct a thorough investigation into the authorities of Chicago State University.
Comrade Timi Frank's call for investigation stems from the curious reluctance or refusal of Chicago State University to release relevant academic records for Bola Tinubu, who is either a female or male.
This request aims to shed light on the authenticity of the certificates awarded by the university to Americans who graduated from there.
President Tinubu's claims about receiving a certificate from the university, which he alleges was riddled with errors by an unnamed university employee, have cast doubt on the credibility of these academic records.
This investigation is deemed necessary because Bola Tinubu has previously faced questions about errors in his academic record claims.
In the context of electoral claims, he had attributed these errors to third parties.
The need for transparency and clarity in this matter is paramount, particularly given his aspirations for the highest office in Nigeria, an office that demands unblemished integrity, honesty, and public trust.
Chicago State University is a public academic institution, and as such, Tinubu's records are considered public documents.
Comrade Timi Frank emphasizes that if these records are genuine, there should be no hesitation in releasing them to the public.
Accountability to the Nigerian people is of utmost importance, and transparency regarding academic records is a fundamental aspect of that accountability.
Frank's plea extends to the international stage. He urges the U.S. government not to jeopardize its longstanding relationship with Nigeria over this issue.
The principles of accountability and transparency should apply universally, and the U.S. should ensure that everything regarding Tinubu's academic record is made available to Nigerians.
In light of these concerns, Comrade Timi Frank calls upon the American Secret Service, including the FBI and CIA, to investigate any potential bias on the part of Chicago State University.
This investigation seeks to ensure fairness, transparency, and integrity in the electoral process in Nigeria.
It's essential to establish the truth, especially when the legitimacy of public officeholders is under scrutiny, as is the case in other democratic nations like the United States.
Finally, an appeal is made to the judge in the State of Chicago court to order the university to release the requested documents as they would for any U.S. citizen.
This step is crucial in upholding principles of fairness and transparency.
Comrade Timi Frank's call for investigation underscores the importance of transparency and accountability in public office, transcending national borders and emphasizing the shared values of democratic nations.