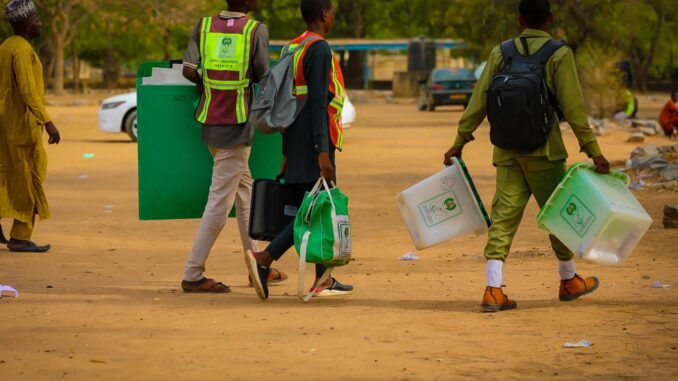 A recent study conducted by SB Morgen (SBM) Intelligence, a renowned consultancy offering critical solutions in the fields of politics, society, and economics across Africa, sheds light on the inadequate support provided by the Independent National Electoral Commission (INEC) to persons with disabilities (PWDs) during the 2023 elections.
The report emphasizes the lack of accessibility to necessary aids and limited access to voter education initiatives for PWDs.
According to the report, a meager 22.26 percent of PWDs participating in the 2023 elections had access to assistive aids. This distressing figure points to a significant gap in INEC's efforts to cater to the needs of PWDs, hindering their ability to fully exercise their democratic rights.
Furthermore, the report highlights that 38.05 percent of PWDs encountered challenges in accessing voter education initiatives. This alarming statistic underscores the need for improved efforts from INEC to ensure equal access to information and resources for PWDs, enabling them to make informed decisions and actively participate in the electoral process.
It is crucial for INEC and relevant stakeholders to take these findings seriously and work towards implementing inclusive measures that prioritize the needs and rights of PWDs in future elections.
By enhancing accessibility to assistive aids and ramping up voter education initiatives, INEC can foster an environment of inclusivity, empowering PWDs to exercise their voting rights without barriers.
"Nigeria's electoral commission promised to make the 2023 elections more inclusive for people with disabilities. However, feedback from the survey conducted by SBM showed that many promises were not fulfilled," the report said.
"The electoral commission was criticised for not providing adequate assistive communication aids and lacking voter education.
"Some respondents suggested that the commission should train people with disabilities and include them as part of the polling staff.
"Despite these shortcomings, there have been some improvements in addressing disability concerns in elections.
"The 2022 electoral act now ensures that people with disabilities are registered during the voter registration process, with specific columns to capture disability type.
"The law also mandates that disabled individuals be accompanied when casting their vote and requires the commission to provide suitable means of communication, such as Braille or sign language interpretation, at polling places.
"However, the act does not clearly define when "offsite" voting is appropriate, which may lead to confusion or abuse by polling officers.
"While these provisions are commendable, they do not fully meet the commission's own policy document on inclusion.
"Some individuals interviewed during voter registration reported delays and difficulties."
The report said the electoral act should have prioritised fast-tracking and processing of voter cards for people with disabilities and other vulnerable groups.
"Additionally, on election days, movement is restricted in Nigeria, making it challenging for people with disabilities to access transportation and reach their polling units," the report said.
"The high percentage of individuals who found the ballot box or polling booth inaccessible highlights the need for improvements.
"INEC should coordinate its efforts more effectively and provide clear guidelines on offsite voting.
"It should also fulfill its promise of conducting a baseline study on voting infrastructure and distributing Braille ballot guides for visually impaired voters."
The report said INEC should improve on education outreach for PWDs and collaborate with disability groups for required budgets for inclusion.
"The upcoming off-cycle elections allow INEC to apply lessons learnt from the presidential election and test improvements," it said.
"Baseline studies should be conducted after each state or regional election, focusing on polling unit accessibility and availability of assistive aids.
"Transparency in this process would enable disability organisations to identify areas that need improvement."