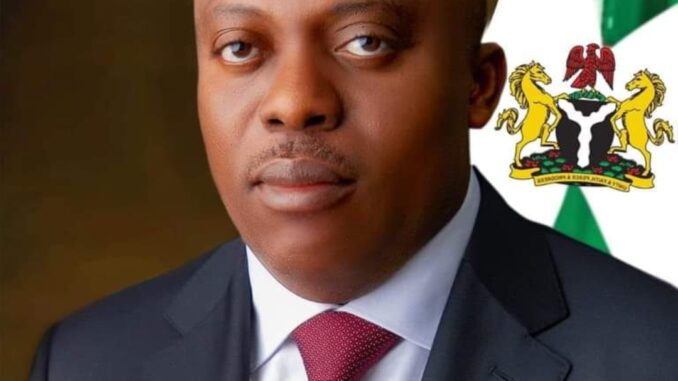 Rivers State Governor, Siminalayi Fubara has assured that he will not take the mandate given to him by the people of Rivers State for granted as his administration is poised to embark on policies that will better the lots of the people.
Wike: Tinubu's Move Strategic, Transformative -Ex-PDP Chairman
Fubara gave the assurance yesterday while addressing the organised labour on a peaceful protest to Government House, Port Harcourt, to register their discontent against the effects of subsidy removal.
The governor said he feels the pains and difficulties experienced by the workers and the generality of the masses as a result of subsidy removal.
Fubara, who was represented by the Chief of Staff, Government House, Hon Chidi Amadi commended the organised labour for their peaceful disposition during the protest, saying that the demands of the workers would be channelled to the appropriate authorities.
The governor stated that he was the first governor in the country to release free buses to cushion the effects of the subsidy removal, and urged the workers to be patient and supportive to the Rivers State Government to collectively address the challenges.
He said, "Difficult times require difficult decisions. At the state level, the governor has assured that he will do everything within his powers to ensure that the present challenges felt by not only the workers but the generality of the people are properly addressed."
"Beyond the subsidy intervention buses, the Governor is talking with the organised labour and other stratas of the society to ensure that policies are put in place to address the challenges faced by the people."
On his part, the Chairman of the Rivers State Chapter of the Nigeria Labour Congress, NLC, Comrade Alex Agwanwor said the protest is to intimate the governor on the biting effects of the subsidy removal on workers and the masses without first putting in place proper measures to mitigate the sufferings of the people.
Agwanwor, while applauding the governor for being the first to roll out free subsidy intervention buses presented a six-point demand to the governor for actions, which Include immediate implementation in good faith of the resolutions with congress jointly signed with government and Trade Union Congress (TUC) on the issues, and reversal of all anti-poor policies; especially the hike in the price of PMS.