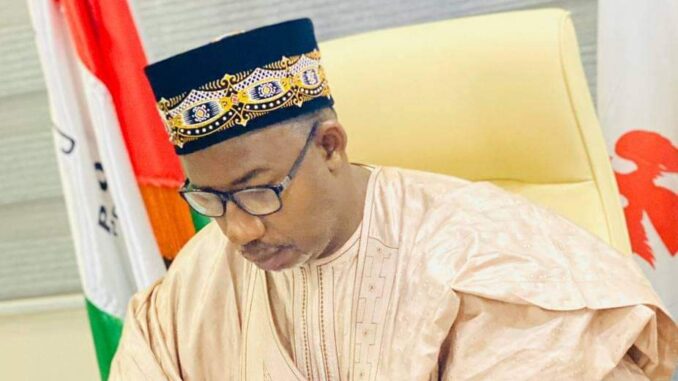 By Engr.Saleh Alhassan
On Tuesday, 5th September 2023, the Executive Governor of Bauchi State, His Excellency, Senator Bala Mohammed announced the appointment of 17 special advisers. Among them are the National President of Miyetti Allah Kautal Hore, Alhaji Abdullahi Badejo as his Special Adviser, farmers and herders matters, and Dr. Ahmed Adamu Chiroma, as his chief security adviser.
The Governor, through the Special Adviser on Media and Publicity, Muhktar Gidado, described those appointed as highly accomplished and dedicated professionals that will provide guidance and support in key government operations.
Their appointments are to re-invigorate the machinery of government and further strengthen Governor Mohammed's administration's commitment to delivering on his promises and enhancing good governance in the State.
Alh. Abdullahi Bello Bodejo(LamidoFulbe) is indeed a unifier and could get things done. And with his current appointment, I am of a strong view that the herders/farmers crisis be a thing of the past.
It is equally higly commendable the Governor's appointment of Captain Ahmed Adamu Chiroma (rtd) as his chief security adviser. Throughout his military career, Captain Ahmed A. Chiroma's strong stance on integrity and distinction led him to play key roles on three coveted presidential task forces, small arms and ammunition recovery, pipeline vandalism and crude oil theft and trade malpractices and financial crimes respectively. He also worked in the military special investigative bureau investigating financial and corrupt practices, and instilling general discipline in all armed forces. Even in civilian life, he served as group director of the current presidential security during the recent elections and is a current member of the presidential security advisory committee.
There is no gain saying that Bauchi State is on the rising under Senator Bala Mohammed. It is a common knowledge that Governor Bala Mohammed has demonstrated leadership since he took over the mantle of leadership in Bauchi State. He has proven that the interest of his people matters more than anything. As a pathfinder, Governor Mohammed has continued to beat path for others to follow.
Apart from providence, Governor Bala Mohammed's phenomenal rise cannot be by accident. Excellence, it is said, destroys prejudice. When a man knows his onions and does everything with midas touch, it won't be difficult to attract the favour of kings.
Governor Bala Mohammed epitomizes the qualities of a good leader as described by former British Prime Minister, David Cameron, who once said, "almost everybody can say yes. The hallmark of a good leader is the ability to say" no", when he should". He never hesitates to say" no", where he should. This has helped him a great deal, to deliver quality services to humanity, wherever he finds himself. Little wonder he earned public trust for himself, which has catapulted into his resounding victory in the 2019 and in the 2023 Bauchi State governorship election. In Nigeria's political templates, it is an uphill task to defeat an incumbent governor in an election. Senator Mohammed achieved it like a walk in the park with two hands in the pocket. Like a time-tested saying goes: "the reward for good work, is more work". No wander he got a resounding victory in 2023 governorship election. Despite the gang up against him by the elites, the masses came out enmas to give him the second term. There is no argument; Bauchi State has never had it so good like this time. For the parliamentarian, politician, philanthropist and development guru called Bala Mohammed, delivering on a mandate comes natural to him. He doesn't struggle to get things done in the right way because he possess the capacity, courage and supporting energy to deliver. He is always on the run "walking the talk." As a senator of the federal republic of Nigeria between 2007 and 2010, Bala Mohammed represented his people with guts and astuteness. Like always, he shown like a million stars that have no hiding place. It was not a surprise that shortly after leaving the hallow chamber of the National Assembly, he was appointed minister. The Executive Governor of Bauchi State, Sen. Bala Abdulkadir Mohammed is taking bold steps towards ensuring that his good people enjoy the dividends of democracy and his State; Bauchi State attains the highest height.
With Senator Bala Abdulkadir Muhammed as the sixth democratically elected governor of Bauchi state, the state is wearing a new look in view of the unprecedented achievements being recorded in areas of infrastructure and other aspects of human capital development.
Prior to twenty nine May twenty nineteen when he took over the mantle of leadership, the state had suffered decay in various sectors of Health, Agriculture, access to potable water and above all, education, where the United Nations declared Bauchi as the state with high rate of out of school children in the country. But, the exemplary leadership style of the result oriented governor has changed the narrative through careful deployment of the lean internally generated revenue and the state's federal allocations to the critical sectors of need and attracting both local and international commendations.
His ears are annexed to the microphones of his people. This he does with all sense of humility and responsibility to the ideals and zeal of the over five million population of the state.
Only good leaders who feel for their people like Governor Bala Mohammed mingle with the people to find out their problems and respond appropriately. In short, His Excellency Senator Bala Abdulkadir Mohammed does not operate on the dejected value of 'felt needs.' He listens to his people. He asks them about their choices. He defends their bias.
Indeed, posterity will not forgive history annals provided they don't chronicle the values and believes of Governor Bala Abdulkadir Mohammed for the unborn generations to tape and apply to their situations.
Engr.Saleh Alhassan FIMC ,ChMC
Is the National Secretary Miyetti Allah Kautal Hore Fulani Socio-Cultural Association.