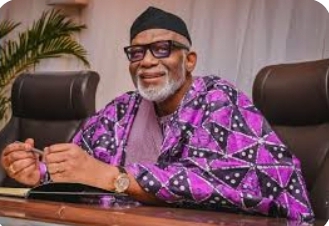 By Tambaya Julius
In an exclusive statement, Richard Olatunde, the Chief Press Secretary to Ondo State Governor Rotimi Akeredolu, addressed the recent speculation surrounding the governor's health.
The statement assured that the governor is currently undergoing recovery treatment in Germany and expressed gratitude for the widespread support and well-wishes.
The video that has circulated, seemingly suggesting Governor Akeredolu's return, was clarified to be from a prior election campaign, not reflecting his current status.
The statement emphasized the governor's eagerness to rejoin the state after his recovery journey, continuing his commitment to uplifting Ondo State through progressive governance.
Despite the circulating video causing confusion, Governor Akeredolu remains on his path to full recovery while in Germany.
The people of Ondo State and supporters worldwide have shown remarkable concern and support, boosting his spirits throughout his health journey.
Governor Akeredolu's unwavering dedication to the betterment of Ondo State persists.
His administration's agenda for positive development and lasting impact remains unchanged.
The governor anticipates his return to the state in the near future, ready to continue his administration's transformative efforts.
The video that sparked speculation was captured during the governor's campaign tour prior to the presidential and national assembly elections.
The context of the video was clarified to dismiss any confusion regarding the governor's current whereabouts.
As Governor Akeredolu focuses on his recovery, his anticipation to reunite with the people of Ondo State grows stronger.
He acknowledges the overwhelming support received and looks forward to contributing to the state's prosperous future.
"The governor's recovery journey is progressing positively, and he is committed to returning to the state with renewed energy to drive progress, development, and lasting change" Olatunde said.