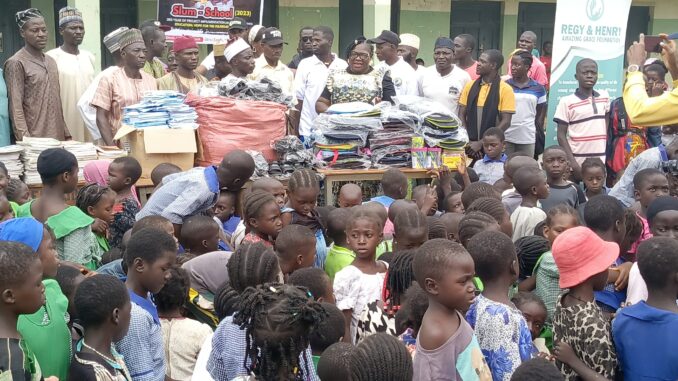 By Abubakar Y. Ojimaojo
As part of its third-year implementation of the "Slum to School" program, the non-governmental organization Regy and Henry Grace Foundation (RHAGF) has distributed educational materials worth 35 million naira to students at LEA Primary School Shishipe 1, II, and GSS Galuwyi in Abuja.
The donated items include shoes, sandals, books, and more to enable the pupils to focus on their studies in school.
Pupils warmly entertained guests and parents present at the occasion with colorful traditional dances, poetry, and musical performances, fully sponsored by the foundation. This was done to instill a sense of belonging in underprivileged children within the community, reminding them that regardless of their position in society, there is hope for them to achieve their aspirations in life. They should not look down on themselves or be intimidated by the privileged ones in society.
Speaking at the flag-off ceremony on Saturday, the National Coordinator for RHAGF, Mrs. Duru Reginal, explained that the "Slum to School" program aims to encourage children with weak family structures to stay in school and enroll those who are out of school completely.
According to her, the project is a response to the hardships faced in the country, especially during the COVID-19 pandemic, which weakened many families economically and led to children dropping out of school. UNICEF's report on education in Nigeria reveals that one out of every five households has out-of-school children.
She said :"This program was conceived in 2021, and now, two years later, it has covered several environments. The goal is to enroll 500 children in school over five years, with 100 being enrolled each year. So far, 200 children and households have been supported. Household strengthening is the sustainability plan of this program, ensuring that parents or caregivers are also trained to support these children in school.
"This empowerment will benefit the people in this area. The total cost for this year's program, including textbooks, exercise books, writing materials, school bags, sandals, etc., is 35 million naira," she stated.
"We are registering those who are out of school and equipping them with everything they need to attend school. For those already in school, we take care of their PTAs, educational materials, uniforms, sandals, and lockers.
She also appealed to the new Minister of Education and all educational stakeholders to stop providing lip service and to reach out to teachers who are struggling due to hunger, unlike their counterparts in the townships.
Additionally, the Headmaster of Shishipe 1, Comrade Jibrin Bala, expressed gratitude to the foundation, noting that it was the first time in the history of the school since its establishment in 1976 that such an event had occurred.
He thanked the Almighty Allah and prayed for blessings upon the Regi and Henry Foundations. He also appealed to the Federal Capital Territory Administration (FCTA) to provide more teachers for the school, as they currently face a shortage.
The School Head Girl, Queen Moses, praised the efforts of the Regi and Henry Foundation, commending them for their support and expressing the hope for more assistance in the future.