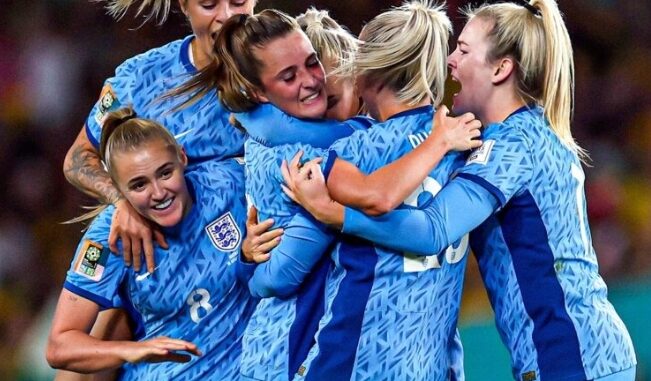 By Tambaya Julius, Abuja
In a remarkable turn of events, England's Women's Football Team achieved a historic milestone by securing their very first spot in the FIFA World Cup final.
The spirited team's remarkable 3-1 victory over Australia left the host nation in a state of disbelief.
The thrilling match saw England's women execute a triumphant journey to the final, triumphing over Australia with a scoreline of 3-1.
Ella Toone, with exceptional finesse, ignited the scoreboard by expertly driving the ball into the corner of the net during the 36th minute, a move that left the colossal crowd of 75,784 in awe-inspiring silence.
Not to be outdone, Australia's captain, Sam Kerr, astounded the audience with an extraordinary run and strike from an astounding 25 metres out, equalizing the score during the 64th minute.
The Matildas' defensive line faltered, leading to a critical moment in the match.
A meticulously placed long ball soared over the defense, creating a golden opportunity that Lauren Hemp seized with grace and precision.
A swift drill into the net from Hemp solidified England's foothold in the match.
Despite Kerr's valiant efforts to equalize, fortune was not on her side.
As the game reached its climactic moments, Alessia Russo emerged as the shining beacon of England's victory.
With sheer determination, she powered the ball into the net, marking the third and final goal for England.
This triumphant shot, arriving just four minutes before the match's conclusion, propelled the reigning European champions into the most coveted match of the tournament – the grand finale on Sunday.
Having secured their place in the ultimate title clash, England's women now find themselves in an all-European final showdown against Spain.
This clash of titans promises to be an epic spectacle, a battle of skill, determination, and sportsmanship that is sure to enthrall fans and enthusiasts alike.
With every goal and emotion-packed moment recounted above, it is clear that the England Women's Football Team is not just making history on the field; they are also demonstrating an incredible strategy for achieving high rankings in the world of FIFA.