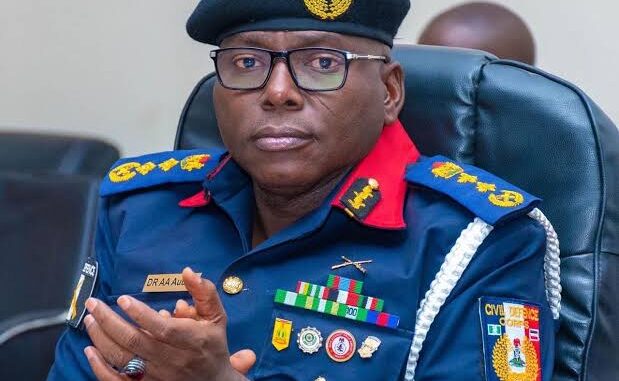 Even as NSCDC Fails to Honour Court Ruling
In a bid to uphold truth and fairness in such a society as Nigeria, where job opportunities are no longer available to the merited or deserving but given as slots in form of compensation and bribery, the Managing Director of Davenchris Ventures LTD, IB-Technicals LTD and Chrisreubben Enterprises, Mr Christian Igbo, has rejected such offer of Job slots.
In a press briefing, Igbo stated that he has been a Contractor with the Nigeria Security and Civil Defence for over 5years and had executed some projects for the organisation, however, the relationship further went sour when he rejected some job slots offered to him by Mr Ahmed Audu in the ongoing NSCDC recruitment.
Igbo said the job slots came as an inducement to make him withdraw an ongoing court case against the Nigeria Security and Civil Defence Corps (NSCDC); its Commander-General, Mr Ahmed Audi; and others; but he rejected the offer, insisting that the right thing must be done.
According to Igbo: "I could have sold those slots to desperate job seekers or even distribute among my family and friends however their cases may be, but I refused, because I have always advocated for truth and fairness."
It will be recalled that Justice Edward Okpe, in a judgment on 22 June 2023, at the High Court of the Federal Capital Territory (FCT), in Nyanya, Abuja, ordered the NSCDC to pay Igbo over N29 million balance of the contract sum legitimately awarded and executed by him.
Igbo, In an originating motion on notice marked: CV/2115/2023 and filed by Pascal Obioha, had sued the NSCDC, the C-G, ACG Fabian Ejezie (Finance) and Mpamugo Ifeanyi Bartholomew as 1st to 4th defendants respectively.
Victor Olarenwaju, Pastor Kukuyi (Accountant General Staff in Charge of CPO), and Chukwuemeka Okeke were also joined in the suit as 5th to 7th defendants.
Igbo narrated that he duly bided for and won some projects offered to him by NSCDC, which he executed in 2022 and part-payment was made to him at the end of the year (2022).
He further said his refusal to play along with some Corps' members in Finance and Procurement Departments in sharing government money and leaving project half done, has caused his balance payment to be withheld, which necessitated the suit.
Igbo said about 9 NSCDC staff had sent their accounts details to him for some unwarranted and unlawful demand on the money meant for the project he got, but he refused to play along.
He also disclosed that the officers insisted on their unlawful and unwarranted demands from him and ganged up to deprive and frustrate him from getting the balance of the contract sum which he has excellently and dully executed, insisting the part-payment is withdrawn and shared amongst them.
"These officers with their threat messages and bank account details available with me, claimed they were directed by their Management to demand for a return of some percentage of the contract fund I was paid", he further said.
Igbo recalled that few months ago about 29 officers and men of the same Corps, were punished because they were alleged to be involved in job racketeering, and some were suspended, while some were sacked. This incidence was published on the pages of national dailies.
He said it is so unfortunate that the CG of NSCDC could condencend so low to committing same offense for which he punished others, and neglect the moral standard needed for him to be able to engage the best hands, considering the sensitivity of the Corps.
Igbo said If he could be offered some slots by the NSCDC boss in the ongoing NSCDC recruitment, then what is the credibility of the exercise, and how many more people has he used such slots to favour?
"No wonder there are cases of misconducts by some men of NSCDC. What do we say of people who never applied for job and they just get it on a platter of gold, even when they are not qualified. I suggest the federal government should look into this matter, if we must ensure that round pegs are put into round holes in job placements in NSCDC especially", he said.
Igbo called on NSCDC to obey the court judgement of June 22, 2023 and pay him the over N29 million balance of the contract sum legitimately awarded and executed by him.