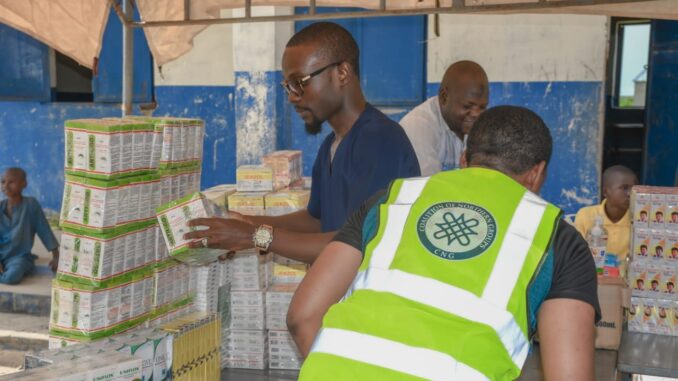 In a furtherance of the community involvement efforts of the Coalition of Northern Groups (CNG) its organ, the Arewa Health and Social Development Initiative AHSDI led by Engineer Hamza Mukhtar has taken medical aids to the Saminaka Internally Displaced Persons (IDP) camp in Gusau, Zamfara State.
The medical aid which included basic medical supplies and prescription drugs for various ailments, were also shared to Gusau Orphanage and at the Federal Medical Center Gusau.
Engineer Mukhtar, while speaking to the media, stated that "It is our duty as healthcare providers and humanitarians to ensure that the needy in our society get the necessary care and support they require. We hope to continue to provide aid and support to the IDP camps in Zamfara and other parts of the northern region."
He urged the government and other well-meaning individuals and organizations to support the IDP camps in their respective areas of operation.
He said, the initiative which is powered by the Coalition of Northern Groups (CNG) is meant to help alleviate the suffering of those affected by the ongoing crisis.
"We must remember that the IDP camps are in dire need of assistance, not just in terms of medical aid but also basic necessities such as food, water, and shelter. The ongoing conflicts have displaced thousands of people, leaving them vulnerable to various health risks and other dangers. It is crucial that we continue to provide support to these camps and work towards finding a lasting solution to the crisis.
"In addition to providing medical aid, we must also focus on long-term solutions such as education and skills training for those in the camps. This will help empower them and enable them to rebuild their lives once they return home," he said.
Responding on behalf of the community, the Sarkin Saminaka said the IDP camp has been facing dire conditions due to the ongoing conflict in the area and the lack of access to basic healthcare.
"The medical aid provided by this group will go a long way in providing much-needed relief to the camp residents.
"It is heartwarming to see individuals and groups come together to provide assistance to those in need. The group's efforts are greatly appreciated, and we hope that their actions will inspire others to lend a helping hand to the IDP camps across the country.
"Let us all join hands and work towards creating a better future for those affected by the crisis. Together, we can make a difference in the lives of those who need it most," he said.
In his remark, Dr Ahmed Bala, head of the group's medical team, said it is also important to address the root causes of the conflicts that have led to the establishment of these IDP camps. This includes addressing issues such as poverty, inequality, and political instability.
"Governments and international organizations must work together to create sustainable solutions that will prevent future conflicts and displacement.
"We must also prioritize the protection and rights of those living in IDP camps, ensuring that they are not subjected to further harm or discrimination," Dr Bala said.