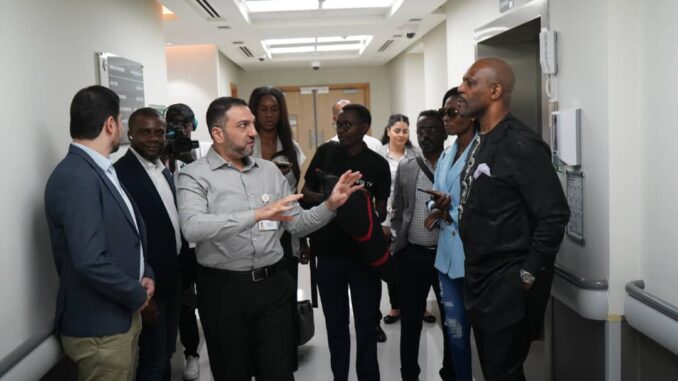 Neuro Spinal Hospital (NSH) and RivExcel Health are revolutionizing the healthcare industry by offering top-notch medical solutions to African patients seeking treatment in Dubai.
This strategic partnership aims to enhance the medical tourism services provided by RivExcel Health, ensuring that patients receive high-quality care in a world-class facility.
RivExcel Health has partnered with Neuro Spinal Hospital (NSH) to expand and enrich the medical tourism services available to African patients seeking treatment in Dubai.
This collaboration demonstrates RivExcel Health's dedication to connecting patients with reputable healthcare providers and ensuring access to high-quality medical expertise.
Neuro Spinal Hospital has been independently vetted and selected by RivExcel Health based on its exceptional reputation, expertise, and commitment to patient care. The hospital's state-of-the-art facilities and highly skilled medical professionals align perfectly with RivExcel Health's mission to provide patients with world-class healthcare in Dubai.
A Milestone Partnership
Tonye Princewill, CEO of RivExcel Health, emphasizes the significance of the partnership, stating that it marks a significant milestone for both organizations. Neuro Spinal Hospital's specialization in oncology, orthopedics, neurosurgery, spinal surgery, and rehabilitation complements RivExcel Health's existing network of healthcare providers, ensuring comprehensive care for patients.
Seamless And Comprehensive Patient Experience
Through this collaboration, RivExcel Health aims to offer patients seeking the latest treatment options a seamless and comprehensive experience. In addition to connecting patients with highly skilled specialists at Neuro Spinal Hospital, RivExcel Health provides personalized assistance with travel arrangements, visa applications, language interpretation services, accommodation, and overall patient comfort. This holistic approach allows patients to focus on their health and well-being while receiving top-quality medical care in Dubai.
Upholding Highest Standards Of Patient Safety And Quality Of Care
Both RivExcel Health and Neuro Spinal Hospital are committed to upholding the highest standards of patient safety, quality of care, and ethical practices. By combining their expertise and resources, these organizations aim to provide patients with unmatched medical solutions and an unparalleled experience throughout their medical journey.
The strategic partnership between Neuro Spinal Hospital and RivExcel Health opens up new possibilities for African patients seeking affordable, world-class healthcare in Dubai. With their shared commitment to patient care, cutting-edge treatments, and comprehensive services, these organizations are poised to transform the medical tourism landscape and improve the lives of patients across Africa. Visit their websites to learn more about the exceptional healthcare services they offer and how you can benefit from this groundbreaking collaboration.