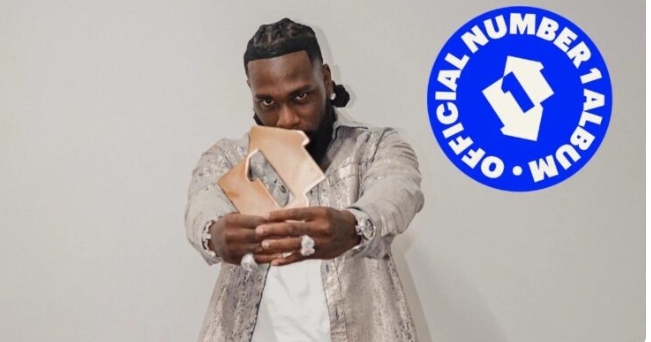 By Tambaya Julius
Burna Boy, the Nigerian-born global sensation, has achieved an extraordinary milestone in the UK music scene.
His seventh studio album, 'I told them,' has skyrocketed to the coveted number one position on the British charts, making history as the first international Afrobeats artist to achieve this remarkable feat, according to the UK's Official Charts Company.
At a vibrant and packed London Roundhouse event, Burna Boy proudly took the stage, clutching his Number 1 Award.
The significance of this achievement was not lost on him as he addressed the ecstatic crowd: "This right here means more to me than any of you can imagine because where I come from is a colony of this place.
For me to be here today with the Number 1, that just tells you that anything is possible.
So this right here is a big thank you to every one of you because you made this possible.
Without you, none of this is happening."
Burna Boy, whose real name is Damini Ebunoluwa Ogulu, had come close to this accolade with his previous album, "Love, Damini," which reached the second spot in the UK album rankings.
The remarkable journey culminated with the release of his latest album on 25 August 2023, which now reigns supreme in the UK charts.
It's worth noting that while homegrown British talents like J Hus have excelled in creating Afrobeats music, Burna Boy stands as the first foreign artist to conquer the UK charts in this genre.
This achievement symbolizes the continuous ascent of Afrobeats in Britain and across the world, with artists like Wizkid and Davido also making waves and shaping segments of popular culture.
Martin Talbot, the chief executive of the Official Charts Company, praised Burna Boy for "blazing the trail" and achieving a "fantastic feat."
He highlighted the British music fans' enthusiasm for embracing new music and cultures from around the world, underscoring the explosion of interest in Afrobeats' musical culture over the past decade.
Afrobeats, as a genre, draws its name from the Afrobeat musical style of the 1970s, popularized by the legendary music icon Fela Kuti and originating in Nigeria.
Burna Boy's historic achievement signifies the enduring impact of this genre and its rich cultural heritage, which has now become an integral part of the global music landscape.