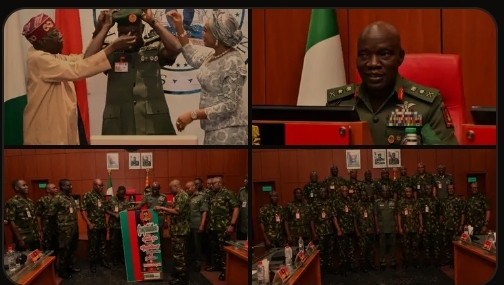 The Chief of Army Staff (COAS), Lieutenant General Taoreed Abiodun Lagbaja, expressed deep appreciation to President Tinubu for recognizing his merit and promoting him to the esteemed rank of Lieutenant General in the Nigerian Army.
At a brief reception held at the Army Headquarters, he pledged unwavering loyalty from himself and the entire Nigerian Army personnel to the President and the Constitution of the Federal Republic of Nigeria.
In a statement by the Director of Army Public Relations, Brigadier General Onyema Nwachukwu, it was revealed that General Lagbaja commended the officers and soldiers of the Nigerian Army for their support and cooperation during his tenure as their leader.
He dedicated his well-deserved promotion to the selfless service and dedication of all personnel, expressing gratitude for their unwavering support and unity.
During the investiture ceremony at the Presidential Villa, Abuja, on Monday, 31st July 2023, President Bola Ahmed Tinubu bestowed the new rank upon General Lagbaja in a grand and colourful event.
The Chief of Policy and Plans (Army), Major General Abdulsalami Ibrahim, conveyed the heartfelt congratulations of all officers and soldiers of the Nigerian Army, remarking that the promotion signifies a profound appreciation for his dedication and hard work in serving the Nigerian Army and the nation.
Looking ahead, General Lagbaja called for continuous cooperation and understanding from the personnel to propel the Nigerian Army towards greater achievements.
He reassured them of his steadfast commitment to Mission Command, aiming to lead the Nigerian Army to further success in their vital role of safeguarding the nation.
With this elevation, Lieutenant General Taoreed Abiodun Lagbaja takes on new responsibilities, and his vision for a strong, efficient, and united Nigerian Army becomes even more prominent.
The President's recognition serves as an encouragement and a testament to the dedication and sacrifice of all members of the Nigerian Army, inspiring them to continue their noble mission with unwavering resolve.
As the Nigerian Army embarks on this new chapter under the leadership of Lieutenant General Lagbaja, the synergy between officers and soldiers will undoubtedly remain the cornerstone of their collective strength.
By standing united, they can overcome challenges, seize opportunities, and solidify the Nigerian Army's position as a formidable force, both within the nation and on the international stage.
Through determination, unity, and unwavering support for their leader and the nation, the Nigerian Army charts its path towards even greater heights, safeguarding the nation's security and fostering peace for the prosperity of all Nigerians.