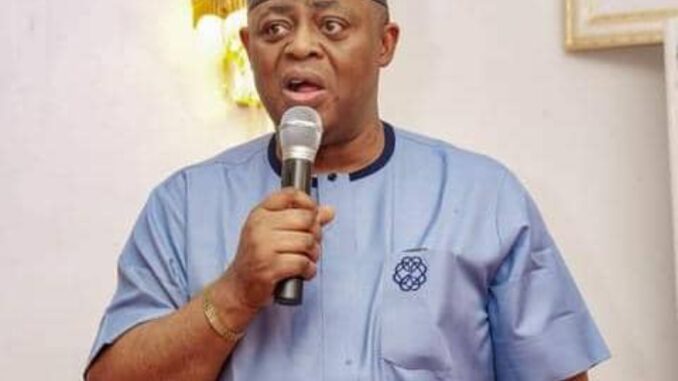 MacDaniel Mark criticized former Minister of Aviation, Femi Fani-Kayode, for his comments on the Gabon coup, describing them as 'diversionary tactics.'
In a statement issued on Wednesday, Mark noted, "I find Femi Fani-Kayode's statement about the coup d'etat in Gabon highly diversionary. According to him, Fani-Kayode was deliberately and desperately trying to divert attention from his sins and those of his gang members at home. He spoke out of fear of nemesis, but unfortunately for him, karma cannot be manipulated.
For the record, the coup in Gabon wasn't against France as he would like to portray it, but against corrupt and avaricious politicians seeking political power at all costs to plunder their nations and impoverish the citizenry. The coup was against political thieves and mandate robbers like him who have brazenly desecrated the sacred altar of democracy across Africa in the name of their self-seeking ambition.
"It was against political charlatans, election riggers, and economic saboteurs who have long been the greatest bane to political stability and economic development in the continent of Africa.
"It was against a committee of political vultures like him who have for decades been feeding off the bodies of the citizens they have slain through poverty, hunger, and starvation. It was against a group of soulless and ruthless political knaves like him who rode to power on the wings of a stolen mandate."
Speaking further, he questioned, "Who is Femi Fani-Kayode to talk about the unfolding events in Gabon while he and his henchmen back here in Nigeria represent the repressive, corrupt, immoral, and evil political gang that rigged their way into power in the recently concluded presidential election?
The coup d'etat in Gabon took place against his ilk, not against France as he would like people to believe. It was against shameless political thugs like him. One wonders what would have become of him by now if he were in Gabon.
"The force of truth, once ignited at the right time and season, is unstoppable, and it will continue to move with atomic impact until it totally reverses every seeming victory of falsehood. Fani-Kayode and his ilk should hide their faces in shame if they have any vestige of decency left in their egregiously battered reputation."