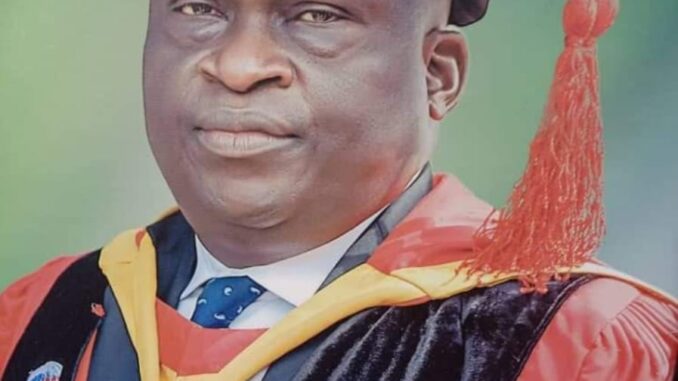 By Omonu YG Nelson
The extraordinary life and accomplishments of Prince Drisu Aruwa Ohioma, a courageous and disciplined individual who left an indelible mark in the banking industry is being reinforce with heartfelt tributes from friends, mentors, and community members who mourn his passing.
In his renowned play, "Julius Caesar" (1599), the eminent English playwright, poet, and actor, William Shakespeare, eloquently stated, "When beggars die there are no comets seen: The heavens themselves blaze forth the death of princes."
These words perfectly encapsulate the wave of tributes that followed the passing of Prince Drisu Aruwa Ohioma, a prince-in-waiting whose demise on Sunday, 24th June 2023, left a void in the hearts of many.
Prince Egena embodied the essence of royalty, exhibiting unwavering courage in every aspect of life. With the tenacity of a bulldog, he pursued his aspirations with determination. His journey to success was not marked by idle complacency; rather, he embraced life with a proactive approach. As a seasoned banker and Chartered Accountant, Prince Drisu held the esteemed position of Regional Manager at Unity Bank, Lokoja, until his unfortunate passing.
Tributes Pour In: Voices Of Appreciation
Following the news of Prince Egena's demise, an outpouring of tributes filled the air like comets streaking across the sky. One such tribute came from Engr (Elder) Yakubu Attah, an esteemed member of the community and a significant contributor to the development of Oganenigu. Attah expressed his deep admiration for Prince Egena, highlighting his dedication, professionalism, transparency, and teamwork. These qualities propelled him to success, ultimately leading to his appointment as the Regional Manager at Unity Bank. Attah lamented the loss of Prince Egena, who would have ascended to the throne of Egena Oganenigu, leaving behind a significant void in the community.
PD Ocheje, a Law Professor at Windsor University, Ontario, Canada, also paid tribute to the late Prince Egena. Ocheje emphasized Drisu's consciousness of his role as the future Egena, describing him as a royal figure steeped in knowledge of Oganenigu's rich heritage. Ocheje mourned the missed opportunity for Prince Egena to bring about a modern era of kingship in Oganenigu and elevate the community's standing among others. He further expressed his sadness and fondly remembered Drisu's recent visit to his parents in Abuja, highlighting the generosity he displayed during that encounter.
Dr Theo Faruna, a close friend and secondary schoolmate of Prince Egena, reminisced about their shared experiences. He regretfully acknowledged that their plans to meet and discuss ways to contribute to their alma mater were thwarted by Drisu's apprehension and fear of potential threats. Faruna commended Prince Egena's academic prowess and exemplary leadership skills, recounting their time together as classmates. He fondly referred to Prince Egena as "Caliban," a name they adopted for each other, and expressed his grief at the sudden loss of his dear friend.
Engr Dickson Idakwo, President of the Oganenigu Christian Forum (OCF) and Prince Egena's schoolmate at the Federal Polytechnic Idah, shared a heartfelt tribute.
The news of Prince Egena's passing resonated deeply with those who knew him, leaving behind an indelible mark on their hearts. Engr (Elder) Yakubu Attah, a prominent figure in the community, penned a touching tribute, lauding Prince Egena's dedication to duty, professionalism, and teamwork, which propelled him to the zenith of his banking career.
Similarly, Law Professor PD Ocheje recounted Prince Egena's royal demeanor, character, and profound knowledge of Oganenigu's heritage. His potential to usher in a new era of kingship was undeniable, with his rich education and deep understanding of culture and tradition, inherited from his revered father, HRH Aruwa Ohioma, the 5th Egena of Oganenigu.
Dr Theo Faruna, a close friend and schoolmate of Prince Egena, lamented the sudden loss, reminiscing about their shared experiences from primary to secondary school. He praised Prince Egena's diligence and timeliness, which earned him the title of Timekeeper Prefect. The bond between them was so strong that they affectionately referred to each other by the name Caliban.
Muhammed KB Ibrahim, one of Prince Egena's mentees, recalled the shock and disbelief that accompanied the news of his passing. He described Prince Egena as a man of excellence and mindfulness, who avoided careless places and embraced deliberate actions in all aspects of life.
Engr Dickson Idakwo, President of Oganenigu Christian Forum (OCF), and a schoolmate of Prince Egena at the Federal Polytechnic Idah, reminisced about their time together as young students. He mourned the loss of a gentle giant and the hope of restoring dignity and progress to Oganenigu through the royal stool.
A Pursuit Of Excellence: Prince Egena's Educational Journey
Prince Egena's pursuit of knowledge and excellence began at a young age. He attended primary school in Oganenigu, where his academic prowess and discipline shone brightly. His thirst for knowledge led him to further his education at the Federal Government College, Ugwolawo, where he continued to excel in his studies.
Prince Egena's remarkable academic journey continued at the Federal Polytechnic, Idah, where he obtained a Higher National Diploma (HND) in Accountancy. His dedication and commitment to his studies earned him numerous accolades and recognition, setting the stage for his future success.
Undeterred by his accomplishments, Prince Egena's hunger for knowledge pushed him to pursue higher education. He went on to obtain a Bachelor's degree in Accounting from the prestigious Ahmadu Bello University, Zaria. Not one to rest on his laurels, he further pursued a Master's degree in Business Administration (MBA) from the University of Nigeria, Nsukka.
However, Prince Egena's thirst for knowledge did not stop there. His insatiable curiosity and drive led him to pursue a Doctor of Philosophy (PhD) in Financial Ethics, a testament to his commitment to ethical practices within the financial sector. His academic achievements were a reflection of his relentless pursuit of excellence in every aspect of his life.
An Unwavering Banking Career
Prince Egena's educational accomplishments laid a solid foundation for his successful career in the banking industry. He joined Unity Bank, one of Nigeria's leading financial institutions, where he exhibited exceptional professionalism and commitment to his work.
Throughout his tenure at Unity Bank, Prince Egena consistently demonstrated strong leadership skills and a deep understanding of financial ethics. He climbed the corporate ladder, holding various positions of increasing responsibility and contributing significantly to the growth and success of the bank.
Prince Egena's unwavering dedication to his profession earned him the respect and admiration of his colleagues and peers. His expertise in financial ethics and his commitment to upholding high standards of professionalism made him a trusted figure within the banking community.
The Eternal Debt: Reflections On A Life Well-Lived
The passing of Prince DA Egena left a void that will forever be felt by those whose lives he touched. His commitment to excellence, professionalism, and ethical practices serves as an inspiration to all who knew him.
His legacy extends beyond his professional achievements. Prince Egena was known for his generosity, humility, and unwavering support for his community. He was deeply committed to the development of Oganenigu, and his efforts to uplift the people and preserve the cultural heritage of his community will always be remembered.
The tributes and reflections that poured in upon his untimely demise spoke volumes about the impact he had on the lives of those around him. Prince Egena's passing serves as a reminder to cherish each moment, embrace lifelong learning, and leave a lasting legacy of integrity and compassion.
As the heavens blaze forth the death of princes, the legacy of Prince DA Egena will continue to shine bright, illuminating the path for future generations to follow. His life serves as a testament to the power of perseverance, dedication, and the pursuit of excellence, reminding us all that the impact we make in the world extends far beyond our time on this earth.
Rest in eternal peace, Prince DA Egena, a royal luminary whose light will forever guide and inspire us.
Omonu, CEO Highland Media Ltd & Editor-in-chief, Summit Post News Writes From Abuja, Nigeria