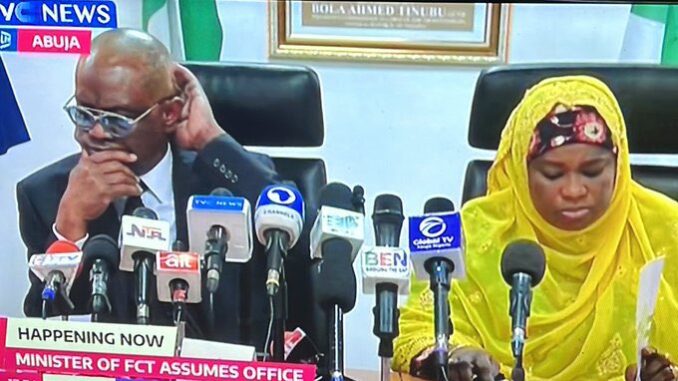 …Says Nation's Capital Drifting Into A Slum
Former national chairman of Protocols/Logistics Committee of the defunct Tinubu-Shettima Grassroots Independent Campaign Council (TSGICC), Chief Tony Okocha, has expressed the hope the Minister of the Federal Capital Territory, Chief Nyesom Ezenwo Wike, will restore the Abuja Masterplan.
He said the nation's capital was drifting into a slim due to the activities of developers who acquire and develop every available space thereby blocking waterways and exposing the territory to incessant flooding.
Okocha spoke yesterday in Port Harcourt, the Rivers State capital, on the sidelines of an event organised by stakeholders of the All Progressives Congress (APC) to celebrate the inauguration of Wike as a minister.
The APC chieftain said: "I live in Abuja or I am a regular visitor in Abuja. I know that the Abuja status that we used to know, the austethic beauty, with which it was initially designed is begining to drift. It is drifting into slums.
"As some of you know, recently, Abuja was flooded and that is not just part of the Abuja framework. The reason is that some people have taken the laws into their hands by begining to acquire properties and develop properties on waterways.
"It is said that water must to find its route and when water is unable to pass through the proper channels prepared for it, what follows certainly is that it will find a way out. So, the Abuja masterplan that is known to all of us, which was initially said to by the synoscure of excellence has started drifting away and is no longer qualified to be called a capital city.
"When you have a lot of us whose interest is business profiteering, everywhere they see open space becomes a market. That is what is happening right now in Abuja. The original plan is almost gone.
"I think that the President may have interest in bringing back to its status and to do that, you don't need a push and start. You need somebody who has courage. You need somebody who can exhume the confidence at the slightest opportunity, to change Abuja to what is used to be."
Okocha, who thanked President Bola Ahmed Tinubu, for bringing Wike to be part of his administration, described the former Rivers State governor as "a square peg in a square hole."
He said: "I intend to thank the President in writing; that he has put a square peg in a square hole. Former Governor Wike is not a neophyte when it comes to governance and administration. He is not a pushover in the political sphere.
"So, all that the President will be needing for which he has so appointed him, he will get even more. Wike has the advantage of turning a stone into a marble. So, wherever you think he will fail, that will be his stepping stone."