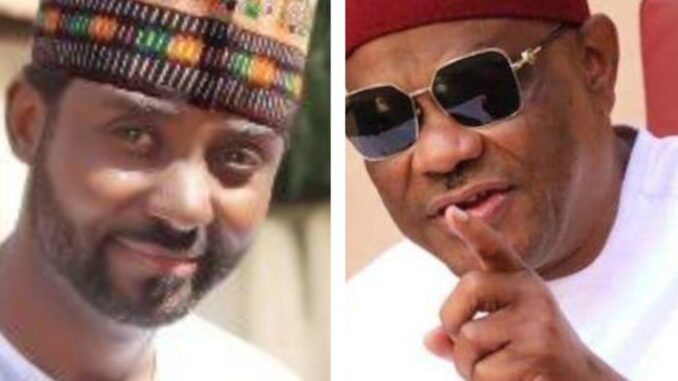 By Jotham Ayuba Fnim, Aimim
It was on 28th August 1963, some 60 years ago, from the steps of the Lincoln Memorial, in Washington DC, United States, that renowned African-American activist, Martin Luther King Jr. recited his chilly, bone-piercing, famous and evergreen revolutionary speech, tittled; "I have a dream". "I have a dream that my four little children will one day live in a nation where they will not be judged by the color of their skin, but by the content of their character".
Those were Martin Luther King Jr's opening statements which were supposed to eradicate sentimentalism, fanaticism and erode religious bigotry but decades after, our dear country Nigeria is still immersed in and cocooned by religious segregation fueled by so called religious leaders and political juggernauts.
The recent of such sentimental, fanatical and religious outburst has been targeted towards the very energetic, witty, and 'lets call a spade, a spade' former governor of Rivers State, Nyesom Wike, who was recently appointed as Minister of the Federal Capital Territory by Nigeria's President, Bola Ahmed Tinubu.
The grouse of the religious leaders, is that President Tinubu ignored what they described as "sensitive nature of Abuja" by appointing Wike, a southern minority Christian, to oversee the FCT, but the original Abuja inhabitants have applauded the appointment, expressing happiness that the administration of the FCT, for once, has not been made the birthright of Hausa, Fulani or Muslims.
Let me digress a little from the main core of this incessive article and harp on the formation of Abuja as the FCT for clarity and comprehension.
"Abuja" was in the earlier 20th century the name of the nearby town now called Suleja.
The indigenous inhabitants of Abuja are the Gbagyis, with the Gbagyi language formerly being the major language of the region. Other groups in the area include; the Bassa, Gwandara, Gade, Dibo, Egburra, Nupe and Koro. However, in light of the ethnic and religious divisions of Nigeria, plans had been devised since Nigeria's independence from in 1960 to have its capital in a place deemed neutral to all major ethnic parties, and also in close proximity to all the regions of Nigeria.
The location was eventually designated in the centre of the country in the early 1970s as it signified neutrality and national unity.
The Federal Military Government of Nigeria, promulgated decree No. 6 on 4th February 1976, which initiated the removal of the Federal Capital from Lagos to Abuja. The initial work for Abuja's planning and implementation were carried out by the Military Government of General's Murtala Mohammed and Olusegun Obasanjo. However, the foundation of Abuja was under the Administration of Shehu Shagari in 1979. Abuja, which is the eighth most populous city of Nigeria, eventually replaced Lagos, the country's most populous city, as Nigeria's capital on 12th December 1991.
Having established these facts, it is pertinent to say that in its 24years as the FCT no Christian or Southerner had manned the position of Minister of the territory, as the position has been held only by persons from the North West and North East as if the seat is meant for the other religious sect. Where has been the place of equity and justice in this story as readily captured by the great Greek philosopher, Plato, who said, "Democracy… is a charming form of government, full of variety and disorder; and dispensing a sort of equality to equals and unequals alike".
Since 1999, The North West and the North East have produced three ministers apiece.
Those who had served as FCT ministers are Mohammed Musa Bello (November 2015 – 29th May 2023), Bala Abdulkadir Muhammed (8th April, 2010 – 29th May, 2015, Muhammad Adamu Mainasara Aliero (17th December, 2008 – 8th April, 2010, Aliyu Modibbo Umar (27th July, 2007 – 29th October, 2008), Nasir Ahmad El-Rufai, (17th July, 2003 – 27th July, 2007), Mohammed Abba Gana (8th February, 2001 – 17th July, 2003) and Ibrahim Bunu (1999-2001). They were all Muslims. Jeremiah Useni, from Plateau State, was last Christian to serve as FCT Minister in the last 25 years and that was before Nigeria fully embraced democracy. It would be right to say that during the military junta, the likes of Jeremiah Useni, John Jatau Kadiya and maybe two more where Christians – and they were from the North. At that time the seat was rotated sort of to accommodate both religion.
It is a misnomer of the highest order and an insulting, ill-timed and injurious statement to, therefore, christen the appointment of Wike as the FCT Minister, as "against the sensitive nature of Abuja". This is owing to the fact that even the real owners of the territory – the Gbagyis – have not tested or savoured the seat, not due to their incompetence but due to the commandeering nature of the Hausa/Fulani Muslims who presumptuously think that Nigeria and indeed the seat of the FCT is a birthright that should not be handed over to any other religions or sect.
We cannot seat back and allow mediocres take over positions of leadership in Nigeria just because they come from a certain religion (Islam) and purport that the state belongs to them. Such idiosyncrasies have plunged the most populous country in Africa into slimy quicksilver that is threatening to swallow Nigeria, as decadence has taken over progression. A nation touted or prophesied to become one of the most developed in Africa and the world at large, is now on the brinks of collapse – gradually sliding into a 'Banana Republic' and a failed state.
Even the appointment of Major General Christopher Gwabin Musa as the Chief of Defence Staff has been met with stiff opposition by those who believe that power is theirs alone.
Should we not be talking of Wike's competence and qualifications for the position of FCT Minister, rather than his religion and the region he hails from, so much for one Nigeria. We must begin to put square pegs in square holes and that was exactly what president Tinubu demonstrated by appointing the sagacious and strongwilled former governor of Rivers State as FCT Minister. Wike's accomplishment as a former Governor speaks volumes and in fact, I think it is imperative to walk you through some of these envious achievements.
Beyond the massive infrastructural development and various project commissioned, which continue to attract the attention and presence of eminent leaders across the federation, Governor Wike had positively impacted all sectors of River State's economy while revolutions in the health, agricultural and education sectors, the strings of flyovers scattered all over strategic points in Port Harcourt to decongest a seemingly insurmountable traffic situation are a clear attestation to what visionary and people-oriented leadership can do.
Agricultural productivity was boosted with a state Cassava Processing Company with 3,000 uptakers, there are three new campuses for the State University supported with N9billion takeoff grant; Wike also established a Medical School for the state university and gave scholarships to Rivers indigenes studying Medicine at Pamo University.
In addition, 5,000 youths were recruited into the Rivers state civil service towards reducing youth unemployment, in sports, the Real Madrid Football Academy has been established to combine education and football towards addressing youth development and grooming of future stars.
In the health sector, there is now a Mother/Child Hospital to address antenatal and paediatric health issues while a Cancer/Cardiovascular Disease Centre is about to be established in Rivers state.
Those are just a few of the plethora of transformations that Wike accomplished as governor of Rivers State and upon assumption of office as the FCT Minister, his statement showed he was a man on a mission with the sole aim of repositioning the capital and bringing about unequalled restructuring.
Those who think that President Tinubu's ministerial appointments were obscure and a mismatch, should have a rethink, as he is proving to be fixing the right people for suitable positions.
Ayuba writes from Abuja and can be reached through: jotham.agwam@gmail.com