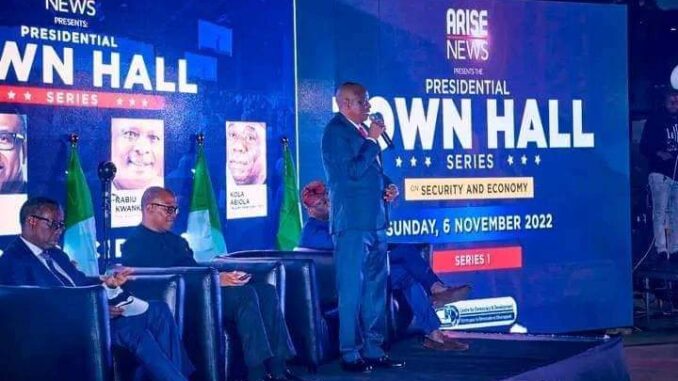 Angola's remarkable reform programme at Sonangol, the national oil company, has helped in embracing partial privatization to strengthen its operations and foster collaboration with foreign investors.
The Angolan economy heavily relies on the petroleum industry, which contributes over a third of the country's GDP and more than 90% of its exports. With oil serving as the primary source of government revenue, accounting for about 70% of the budget, and attracting substantial foreign direct investment (FDI), its significance cannot be overstated. Despite declining production levels due to field maturation, Angola remains committed to exploring untapped offshore zones and capitalizing on the growing demand for natural gas.
Rivers State Exemplary Educational Standard Earns High Acclaim
Resource Nationalism Versus Collaborative Approach
In the face of such circumstances, many countries have embraced resource nationalism, prioritizing governmental control over natural resources. However, Angola has taken a different path. President João Lourenço's administration is spearheading a comprehensive reform program that aims to strike a balance between representing local interests and fostering collaboration with external investors. This approach enables Sonangol, the national oil company, to transition from a government bureaucracy to an agile and efficient oil company.
Reform Initiatives: Redefining Sonangol's Role
To pave the way for this transformation, the Angolan government initiated critical reforms in 2019. The establishment of the National Agency for Oil, Gas, and Biofuels (ANPG) shifted regulatory responsibilities away from Sonangol. The ANPG became the sole entity regulating and supervising oil and gas exploration and production activities. Consequently, Sonangol could focus primarily on operational matters rather than administrative burdens.
Sonangol's Transformation Journey
In line with the reform agenda, Sonangol has been divesting non-core units since mid-2017. These subsidiaries, engaged in various economic activities such as finance, real estate, travel, and food services, were gradually phased out. By shedding peripheral concerns, Sonangol embraced its evolution into an organization resembling an independent oil company rather than a government entity.
The Introduction Of Partial Privatization
Building upon the ongoing reforms, Angola's Minister of Mineral Resources, Petroleum, and Gas, Diamantino Azevedo, announced in September 2021 that Sonangol was preparing for an initial public offering (IPO). This bold step would allow external investors to acquire shares in the company, marking a significant milestone in Sonangol's journey towards greater openness and collaboration.
Key Milestones For Sonangol's IPO
The government's roadmap for the IPO initially lacked specific details. It stated that up to 30% of Sonangol's stock would be sold without providing a clear timeline or terms. However, Angola's government has since clarified its intentions and outlined specific requirements that Sonangol must meet before proceeding with the IPO.
Key Milestones For Sonangol's IPO
To ensure a robust and successful IPO, Sebastião Gaspar Martins, Chairman and CEO of Sonangol, identified several crucial targets that the company must achieve. These targets are designed to enhance Sonangol's strength, sustainability, and operational capabilities.
The targets set by Martins include:
Increasing Sonangol's share of total oil and gas output from fields it operates to 10%.
Expanding domestic refining capacity to reduce reliance on imported fuels.
Developing and constructing at least one petrochemical plant.
Expanding and monetizing fuel distribution, marketing networks, and logistics networks.
Enhancing domestic storage capacity for petroleum products.
Reducing carbon dioxide emissions by at least 20% in exploration, production, and refining operations.
Initiating renewable energy projects and implementing carbon capture initiatives.
Meeting these targets will not only strengthen Sonangol's position but also align the company with sustainable development goals, demonstrating its commitment to environmental responsibility and long-term viability.
Furthermore, Martins emphasized that there is no strict deadline for the IPO launch, indicating that Sonangol will work diligently towards achieving these targets by 2027. This extended timeline allows the company to strategically plan and implement necessary changes to ensure a smooth transition and maximize value for investors.
Finalizing The IPO Roadmap
In January 2023, Martins revealed that the Angolan authorities had finalized the IPO roadmap. Under this plan, the government aims to sell up to 30% of Sonangol's stock. The shares will be listed on the Angola Debt and Stock Exchange (BODIVA) initially and later on an international exchange. The IPO will proceed once Sonangol fulfills the predetermined criteria and achieves the specified targets.
Additionally, Sonangol is actively assessing its future valuation based on its current declared share capital of USD 12 billion. This evaluation process will ensure an accurate reflection of Sonangol's value in light of the forthcoming changes from 2023 to 2027. By optimizing the IPO results, Sonangol aims to attract investors who recognize the company's potential for growth and profitability.
Sonangol's Future Outlook: Collaboration And Growth
The transformation of Sonangol into a corporate-style organization focused on operational efficiency is expected to enhance collaboration not only with foreign partners but also with the future outside investors who will hold stakes in the company through the IPO.
Despite the partial privatization, the Angolan government will retain majority ownership of Sonangol, ensuring that the company continues to serve Angola's interests. Sonangol will play a vital role in expanding local capacity across the upstream, midstream, and downstream sectors, while also representing the country in projects involving foreign investments.
The combination of strategic partnerships, streamlined operations, and a commitment to sustainable development will propel Sonangol forward. The Lourenço administration's foresight and the government's dedication to these reforms are commendable, setting the stage for Sonangol's remarkable achievements in the future.
A Promising Path To Economic Prosperity
Angola's journey towards partial privatization represents a significant turning point in the country's oil industry. By redefining Sonangol's role and embracing collaboration with external investors, Angola is positioning itself for sustained economic growth, increased competitiveness, and enhanced stakeholder engagement.
The reforms undertaken by the government, coupled with Sonangol's transformation into a more streamlined and operationally focused entity, create a conducive environment for successful partnerships and investment opportunities.
As Sonangol works towards meeting its targets and finalizing the IPO, the company's achievements will serve as a testament to the visionary leadership of President João Lourenço. By striking a delicate balance between national interests and global collaboration
Angola demonstrates its commitment to responsible resource management and sustainable development. The country's petroleum industry, despite facing challenges such as declining production levels, remains a cornerstone of the economy and a crucial source of revenue and foreign investment.
The future looks promising as Angola sets its sights on unlocking the untapped potential of its offshore zones and diversifying its energy portfolio to include natural gas and renewable energy. Through the ongoing reform program and the introduction of partial privatization, Sonangol is poised to become a more agile and efficient oil company, capable of navigating the dynamic global energy landscape.
With the IPO on the horizon, Sonangol's transformation into a corporate-style organization will attract domestic and international investors, fostering economic growth, technological advancements, and job creation in Angola. This strategic move aligns with the country's broader vision of achieving sustainable development, reducing dependence on imported fuels, and mitigating the environmental impact of its operations.
The successful execution of the IPO will not only unlock the full potential of Sonangol but also contribute to Angola's overall economic diversification and social development. By leveraging its natural resources responsibly, Angola aims to create a more inclusive and prosperous future for its citizens.
Angola's journey towards partial privatization marks a significant step in its quest for economic resilience, international cooperation, and sustainable development. The reforms implemented by the government, combined with Sonangol's strategic transformation, will enable the company to thrive in an increasingly competitive global energy market.
As Angola embraces this new era, it emerges as a compelling destination for investment and a model for other nations seeking to strike a balance between resource nationalism and collaborative approaches.
The future holds great promise for Angola, Sonangol, and the realization of their shared vision for a prosperous and sustainable future.