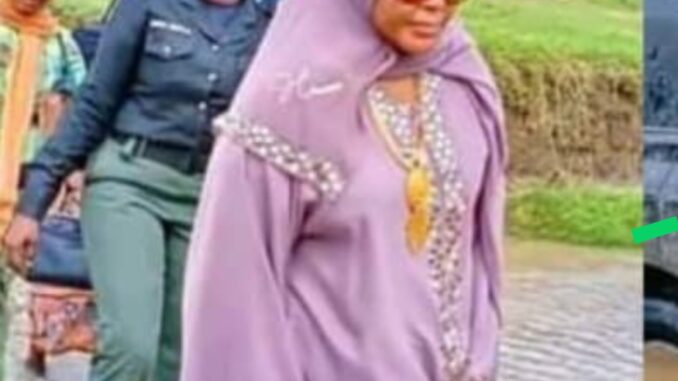 Contrary to reports by a certain section of the media that Aisha Bala-Muhammad, the wife of Bauchi Governor, was forced to trek through mudwater as a result of bad roads in which her motorcade was trapped, the Bauchi Integrity and Credible Information Monitors (BICIM) said the First Lady deliberately stopped her convoy to join a small group of passersby who were trekking through a small area of bad road.
In a clarification and apparent rebuttal of Sahara Reporters, an online portal that had overhyped and distorted the actual facts, Lawal Sani Ningi, Chairman of the Group, stated that the negative reports were a political stunt pulled by self-appointed enemies of the Governor and his family members.
Ningi clarified that Mrs. Bala-Muhammad voluntarily went through this ordeal out of sheer humility.
"It is important to note that humility is an essential characteristic for leaders. In a society where power is often abused, Aisha Bala-Muhammad's trek through mudwater portrays a refreshing sense of selflessness and service. It is a reminder that leaders are not immune to the harsh realities that common folk face.
"Furthermore, it is commendable that Mrs. Bala-Muhammad did not seek publicity or fanfare for this rare display of humility. In a world where social media metrics often dictate our actions, it is inspiring to see individuals do things without the intention of seeking praise or the expectation of some form of reward.
"In conclusion, Aisha Bala-Muhammad's trek through mudwater is a noble act that speaks volumes about her character.
" It is a reminder that leaders should always be in touch with their constituents, and that humility is a trait that should be encouraged. Moreover, this act should also be seen as an inspiration for people in leadership positions to do good with the resources available to them," Ningi said.