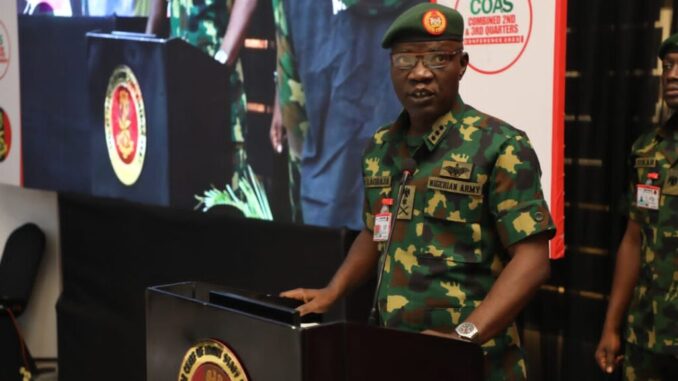 The Chief of Army Staff (COAS), Lt.-Gen. Taoreed Lagbaja, has charged operational commanders of the Nigerian Army to recalibrate their strength to deal scientific blows to the enemies of the nation.
Lagbaja said this at the closing of the Combined Second and Third Quarters COAS Conference, on Thursday in Abuja.
He said the briefs and deliberations by the commanders during the conference depicted that the task ahead was not an easy one.
The COAS said the army was competent and remained committed to ensuring synergy with sister services and other security agencies to create enabling environment necessary for good governance and economic prosperity.
"Let me reitrate that we cannot afford to show any form of weakness because the adversaries we fight are emboldened by weakness.
"We must recalibrate our strength to give the scientific blows to the adversaries within and without appropriately.
"Therefore, the decisions arrived at during our deliberations will help refine our training and operational activities toward realising desirable outcomes," he said.
Lagbaja said the conference provided the army top brass a veritable platform to brainstorm and appraise the army's activities so far in the year.
He said the conference also afforded them quality time to review their training, operational and administrative activities that directly relate to security issues crucial to Nigeria and external environments.
According to him, formation commanders leading the various operations across the country's geopolitical zone briefed the house in line with the conference programme.
He assured President Bola Tinubu of the unflinching loyalty and commitment of the Nigerian Army to the defence of the nation's flourishing democracy and upholding of the constitution.
"In this regard, the Nigerian Army remains unwavering in its commitment to setting good examples for other armies to emulate," he said.
Meanwhile,some Next-of-Kins of personnel who died defending the nation were presented with cheques as payment of Group Life Insurance claims of the deceased.