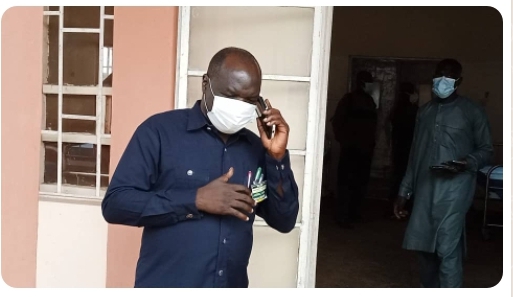 By Tambaya Julius, Abuja
A sudden outbreak of a mysterious disease has struck the serene town of Jema'a in Kaduna State, Nigeria, causing concern among residents and health authorities.
The incident has led to the establishment of an isolation center at the renowned Sir Patric Ibrahim Yakowa Memorial Hospital in Kafanchan.
Most affected by this outbreak are innocent children, aged between 0 to 8 years, residing in Kafanchan Ward 'A' & 'B' of the Jema'a local government area.
The gravity of the situation caught the attention of the Executive Chairman of Jema'a Local Government Area, Comrade Yunana Markus Barde, who swiftly acted upon receiving the distressing news from Council Health Secretary, Dr. Mcberi Ayuba.
This article delves into the urgent medical intervention required to combat this outbreak and provides valuable insights into the ongoing efforts to contain and manage the situation.
At present, the isolation center has taken in ten victims, awaiting laboratory tests conducted by health experts to ascertain the nature of the disease.
Identifying the cause of the outbreak is of utmost importance to ensure appropriate treatment measures are implemented promptly.
The authorities are working diligently to unravel the mystery behind the disease and provide the necessary medical care to those affected.
Health experts and laboratory professionals are conducting thorough investigations to identify the source and nature of the disease.
Suspicions and speculations are rife, but until conclusive results are obtained, it is crucial to exercise caution and refrain from spreading unverified information.
In response to the alarming situation, a team of dedicated health experts has been mobilized to tackle the outbreak head-on.
Their expertise and swift action have proven instrumental in providing urgent medical attention to the affected victims.
The collaboration between health authorities and the local government signifies a unified approach in combating the crisis.
To curb the spread of the disease, the isolation center at Sir Patric Ibrahim Yakowa Memorial Hospital has been equipped with all necessary facilities.
Stringent protocols have been put in place to ensure the safety of both the victims and medical personnel.
Preventive measures, such as proper sanitation, quarantining, and public awareness campaigns, are being employed to contain the outbreak effectively.
The gravity of the situation calls for collective efforts from the community and beyond.
Raising awareness about the outbreak and its potential consequences is vital in ensuring that individuals take necessary precautions to protect themselves and their families.
Local authorities, community leaders, and social organizations are collaborating to disseminate accurate information and dispel any misinformation that may hinder containment efforts.
As the situation unfolds, health authorities and local government officials are keenly observing and documenting the actions taken to combat the outbreak.
These learnings will prove invaluable in enhancing future preparedness against such unforeseen health challenges.
Regular drills, simulations, and capacity-building exercises will be organized to improve response times and coordination in handling emergencies.