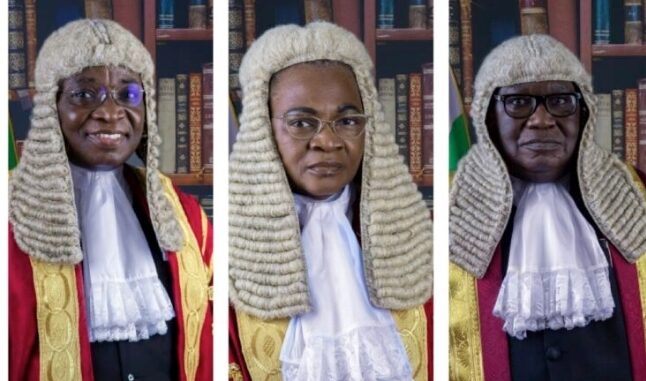 By Tambaya Julius
The Presidential Election Petition Court (PEPC) has announced that it will render its judgment on 6th September in response to the petitions filed by Peter Obi, Atiku Abubakar, and the Allied Peoples Movement.
Lawyers associated with the involved parties initially regarded the judgment date as a mere rumor, as they had not received official notifications, as assured by PEPC Chairman, Justice Haruna Tsammani, on 1st August when the judgment was reserved.
However, a press release from the chief registrar of the court, Umar Bangari, has now confirmed the date.
Bangari has further stated that the judgment for all three petitions will be broadcasted live on television, emphasizing the importance of transparency and openness in the process.
Access to the court premises on this crucial day will be restricted solely to accredited individuals, including legal counsel and representatives of political parties.
The general public is strongly advised to follow the proceedings from the comfort of their homes via television broadcasts.
The petitions were brought forward by the Labour Party (LP), the Peoples Democratic Party (PDP), and the Allied Peoples Movement (APM), all with the objective of challenging the election victory of President Bola Tinubu in the February 2023 presidential election.
Each petitioner presents distinct arguments, seeking President Tinubu's disqualification for various reasons.
The LP and PDP assert that the election was conducted in accordance with the Electoral Act.
In response to the ongoing rumors about the judgment date, legal experts have urged Nigerians to exercise caution and refrain from accepting unverified information.
Justice Tsammani, the chairman of the 5-member panel, initially reserved judgment on 14th July in the case filed by APM.
On 1st August, he similarly reserved judgment in the two petitions submitted by the Labour Party, Peter Obi, Atiku Abubakar, and the PDP.
This decision followed the Court's consideration of the written addresses on preliminary objections and final written addresses presented by both the Petitioners and Respondents.
The Respondents, representing the Independent National Electoral Commission, the All Progressives Congress, and President Bola Tinubu, strongly urged the Court to endorse their processes and dismiss the petitions.
In contrast the legal representatives of the petitioners passionately implored the Court to give due regard to their arguments and grant all the requested reliefs, as they firmly believe their petitions hold merit.
Justice Haruna Tsammani, after thoroughly considering all parties' positions, has reserved judgment on the Petitions.
The specific date for the judgment will be communicated to the concerned parties in due course.