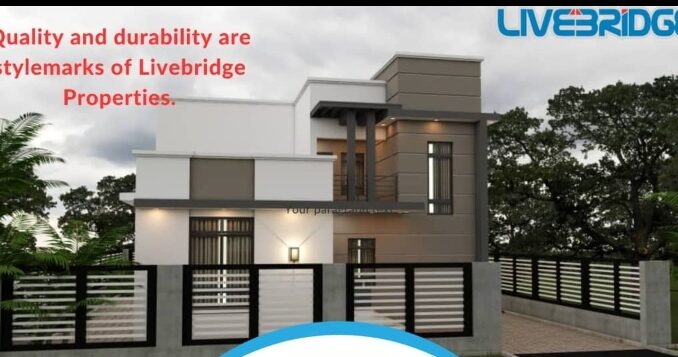 By Tambaya Julius, Abuja
Are you torn between investing in an existing property or a vacant plot? Each option boasts unique advantages that cater to your investment goals.
If you're eyeing long-term financial stability, Livebridge Abuja is your ultimate solution.
Investing in residential plots not only guarantees a safe path to financial security but also opens doors to impressive reselling prospects.
You have the choice to either sell the plot for a substantial profit or construct your dream home on it.
8 Multitude Advantages Of Investing In Livebridge:
1. Livebridge Guarantee You Capital Growth and Stability
Residential plots promise exceptional financial growth compared to other property investments.
The value of these plots consistently escalates, securing your investment with a promising future.
2. Livebridge Guarantee You Budget-Friendly Opportunities
Regardless of your financial capacity, there's a plot suitable for your budget.
Buying a plot proves more cost-effective than purchasing a built property, making real estate investment accessible to a wider range of individuals.
3. Livebridge Guarantee You Simplified Acquisition
The process of locating your perfect residential plot is simplified.
A little research allows you to pinpoint the ideal plot that aligns with your financial plan.
Moreover, acquiring legal approvals is less intricate for plots compared to homes, reducing complications.
4. Livebridge Guarantee You Swift Transactions and Reliability
Unlike properties under construction, plots eliminate delays.
Unforeseen issues that often cause construction delays are circumvented, ensuring a hassle-free and timely transaction.
5. Livebridge Guarantee You Personalized Development
The ownership of a residential plot grants you creative control.
Customize your dream home by altering designs, adjusting room quantities, and tailoring spaces to your preferences.
6. Livebridge Guarantee You Low-Maintenance Investment
Residential plots require minimal maintenance efforts.
Periodic visits and basic upkeep suffice to maintain the plot's appeal and value.
7. Livebridge Guarantee You Limited Competition
The scarcity of competitors in the residential plot market empowers you to set prices without compromise.
This advantageous scenario works in your favor as you navigate the investment landscape.
8. Livebridge Guarantee You Unmatched Long-Term Profits
In the grand scheme, investing in residential plots proves to be remarkably profitable.
As time progresses, the value of these plots appreciates significantly, ensuring substantial returns on your investment.
Embark on a Journey of Prosperity!
By investing in Livebridge Abuja, you embark on a journey of financial prosperity and security.
The diverse advantages of investing in residential plots provide an avenue for you to maximize returns while enjoying a seamless and uncomplicated investment experience.
Remember, your future financial success begins with strategic real estate investment choices.
Choose Livebridge Abuja to pave the way for a brighter and more prosperous tomorrow.
Office Address:
Suit 401, 3RD Floor Better Foundation Plaza (Formaly Patsy Plaza), Plot 359, Ebitu Ekiwe Crescent, Jabi District, Abuja.
Website:
www.livebridgeproperties.com
Email: livebridgeproperties@mail.com
Call Contacts: +2347089169000, +234809894998, +2349014292767.