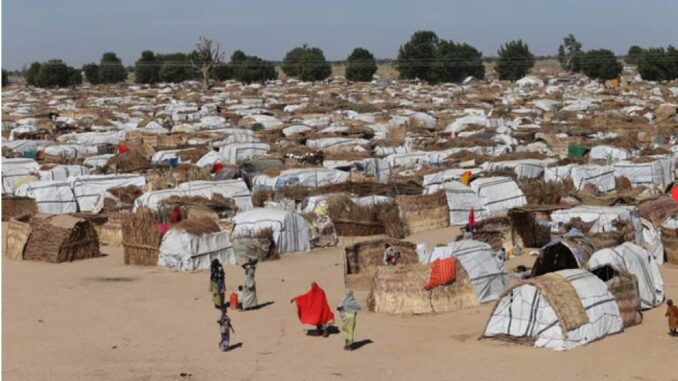 In order to mobilize support for internally displaced persons (IDPs), UNHCR, the UN Refugee Agency, has signed an agreement with the Al-Habibiyyah Islamic Society, a faith-based organization in Nigeria.
Al-Habibiyyah Islamic Society who made the announcement in a press release, will organise fundraising activities to mobilise resources to support internally displaced persons in Nigeria.
National Chief Imam of Al-Habibiyyah.Imam Fuad Adeyemi, "This partnership with UNHCR is an expansion of the work Al-Habibiyyah is doing to support the less privileged in society. In Ramadan, we feed at least 2,000 people every day with our food bank program in Abuja. Moreover, we have over 20 years of experience in fundraising as evident in our annual distribution of Zakat,"
According to the the report,there over 3.3 million internally displaced persons (IDPs) in Nigeria cut across different regions of northeast, northwest, and northcentral. The perennial farmers-herders clashes in the northcentral as well as the banditry & kidnappings in the northwest have added to the displacement emergency in the northeast caused by non-state-armed groups.
These displaced communities are in dire need of support for basic amenities such as shelter, health, education, access to clean water, and protection from sexual violence.
UNHCR has been at the forefront, responding to the needs of these IDPs, but the increasing number of displaced persons in Nigeria has exacerbated resources.
This partnership between UNHCR and the Al-Habibiyyah Islamic Society intends to mobilise support from Nigeria's Muslim community and galvanise the spirit of Islamic philanthropy as a tool to support some of the most vulnerable populations amongst us.
Al-Habibiyyah is a faith-based organization in Nigeria whose mandate includes the propagation of Islam in Nigeria and beyond, Islamic & secular education, inter-religious dialogue, provision of social services such as health care, education & welfare assistance to people in need as well as the advancement of Islamic culture in all facets of human activities.
Al-Habibbiyyah collaborates with fellow Muslims, Islamic organizations, and other refutable impact-making organizations whose vision & mandate matches theirs to deliver interventions that promote the well-being of the people and human dignity.
About UNHCR, the UN Refugee Agency:
UNHCR, the UN Refugee Agency, leads international action to protect people forced to flee because of conflict and persecution. We deliver life-saving assistance like shelter, food and water, help safeguard fundamental human rights, and develop solutions that ensure people have a safe place to call home where they can build a better future.
Since its formation by the United Nations General Assembly in 1951, UNHCR has helped millions of forcibly displaced people restart their lives and has received the Nobel Peace Prize twice.
In line with its global mandate, UNHCR in Nigeria works to safeguard the rights and well-being of refugees and asylum-seekers, refugee returnees, internally displaced people (IDPs), and stateless men, women and children.