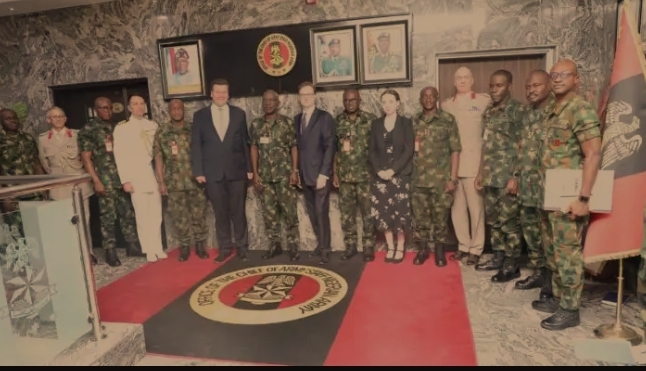 In a landmark development, the Nigerian Army (NA) and the British Government have embarked on a resolute journey to fortify their relationship in the domains of personnel training and equipment acquisition.
This pivotal decision underscores their commitment to bolstering national security and addressing evolving challenges.
This article explores the profound implications of this partnership, unveiling a new era in Nigeria's military capabilities.
Today, the Chief of Army Staff (COAS), Lieutenant General Taoreed Lagbaja, played host to the United Kingdom (UK) Minister of State for Armed Forces and Veterans, Mr. James Steven Heappey, and his distinguished delegation at the Army Headquarters in Abuja.
This historic meeting solidified their mutual resolve to enhance cooperation.
The COAS articulated that this collaboration opens doors to a treasure trove of knowledge from the British Army.
The British Army's extensive experience spans a gamut of areas, including counter-terrorism, peace support, logistics, and intelligence.
These insights promise to enrich the NA's operational acumen significantly.
Furthermore, the acquisition of cutting-edge equipment and technology through this partnership is poised to revolutionize the Nigerian Army's operational efficiency and effectiveness.
This infusion of modern resources equips them to address contemporary security challenges both domestically and regionally.
The COAS warmly acknowledged the robust relationship that has long existed between the two nations, particularly in the realm of personnel training in British institutions.
He expressed profound gratitude for the unwavering support of the British Military Advisory and Training Team (BMATT).
He affirmed the NA's unwavering commitment to sustaining this partnership, especially in the sphere of training.
He pledged continued collaboration with the British Army, dedicated to advancing mutual interests across the West African spectrum.
On the British side, Mr. James Steven Heappey, the UK Minister of State for Armed Forces and Veterans, commended the strong ties between the Nigerian Army and the United Kingdom.
He highlighted the immense potential of this collaboration, emphasizing the opportunities it offers for the Nigerian Army to assimilate new skills, knowledge, and cutting-edge technology from their British counterparts.
This exchange of expertise is poised to catalyze the professional growth and advancement of the Nigerian Army, culminating in a highly proficient and well-prepared force.
As the horizon of this strategic partnership expands, it signifies not only the evolution of Nigeria's military capabilities but also the deepening of diplomatic relations between the UK and Nigeria.
With a steadfast commitment to security and progress, this alliance sets a precedent for the region, underscoring the power of cooperation in addressing complex security challenges.