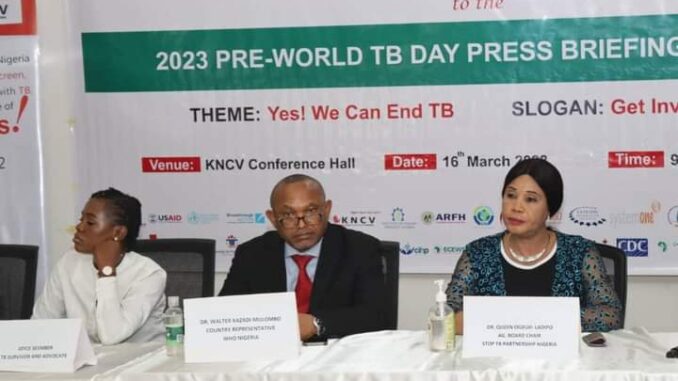 As activities line up in commemoration of the 2023 World TB Day, Stop TB Partnership Nigeria, in collaboration with National Tuberculosis and Leprosy Control Programme (NTBLCP) Federal, uplift Nigeria's progress as it pertains to case notification and eradication of tuberculosis in the country.
The organisations made this declaration at a joint organised Pre-World TB Day Press Conference in Abuja, with this year's WTBD theme being "Yes! We Can End TB", with slogan "Get Involved".
Speaking at the press conference, Acting Board Chairman, Stop TB Partnership Nigeria, Dr Queen Ogbuji-Ladipo said: "Presently as at the end of 2022, the program was able to achieve 60% performance of its estimates for TB case notification that shows that the country is making good progress".
Ogbuji-Ladipo called for more efforts and collaboration in order to identify more TB cases and carry out preventive activities.
" We still have a large gap so close," she added.
In appreciation to its donors, the acting board chairman said  "We are very appreciative of our donors, the USAID and the Global Fund for release of fertility program in Nigeria and we are very optimistic of their continuous support to us".
 "There is still 68 to 70 per cent funding gap for TB in Nigeria and the 30 per cent that has been available for TB control in Nigeria, 24 per cent out of that is from donors, so there is more for the government to do," she lamented.
On his part, the National Coordinator, National Tuberculosis and Leprosy Control Programme (NTBLCP) Federal Ministry of Health in Nigeria, Dr Chukwuma Anyaike, acknowledging the progress made so far, called for more awareness creation.
"As the number one principle of primary prevention, awareness creation comes in, we need to make much noise and it shouldn't be just on an annual basis. We should try as much as possible to let people know and hear of TB".
"If  you look at where we started by the end of 2022, we were able to notify above 285,000 missing cases in Nigeria and that is 60% of the missing cases is a huge milestone, but we have not gotten there" Anyaike said
He expressed his worries as he explained that children are now coming down with tuberculosis.
"we need to change the scenario, we need to change our strategy, we have put some effort to increase our care and increase our momentum towards identifying momentum towards the children. We need to do more to save the lives of the children and also then future of Nigeria" Anyaike added.
Furthermore, Anyaike explained that Tuberculosis is not caused by witchcraft as many people believe,  but is an infectious disease caused by a bacterium called mycobacterium tuberculosis, adding that the disease  cannot be contracted by shaking hands, and by hugging.
"The bacterium is suspended in the air and you can breath it in. Whatever happens afterwards, depends on your body immune system".