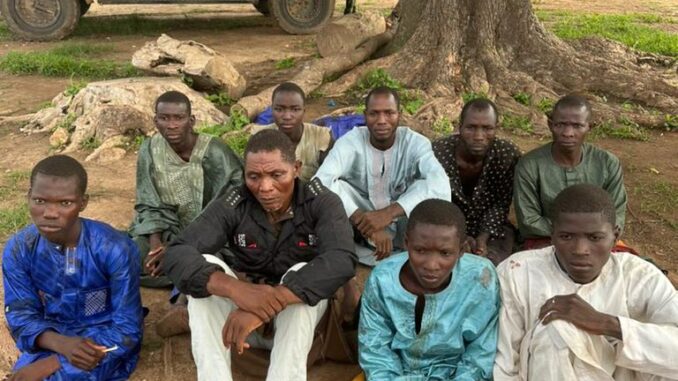 In a recent, brilliantly executed operation, Operation Hadarin troops demonstrated their prowess by rescuing 9 kidnapped victims and recovering a substantial cache of ammunition.
In a relentless pursuit of excellence, these troops also neutralized 10 armed bandits, solidifying the security landscape in Zamfara State.
In a highly coordinated maneuver, Sector 1 Operation Hadarin Daji's troops united their forces on the 8th of August, 2023, to execute an operation that showcased their exceptional capabilities.
Forward Operating Base Danmarke, acting on reliable intelligence about the movement of armed bandits along with kidnapped victims from Sokoto State through Gadazaima village in Zamfara State, played a pivotal role.
As dawn broke on that fateful day, the troops swiftly initiated an offensive ambush operation within Gadazaima village, engaging the armed bandits in an intense firefight that raged on for hours.
With their superior firepower, the troops compelled the bandits to relinquish their captives and retreat in disarray.
The clash resulted in the neutralization of 10 armed bandits, while an unconfirmed number of them managed to escape with gunshot wounds, their plans foiled by Operation Hadarin's strategic intervention.
In a bid to evade the relentless pursuit by the troops, some of the bandits met their end by drowning in a marshy river, a testament to the unyielding commitment of the forces.
Miraculously, 2 bandits were captured alive during the pursuit, their capture signifying a significant triumph for Operation Hadarin's relentless determination.
In the aftermath of the engagement, the troops laid claim to a remarkable arsenal that belonged to the bandits.
Among the spoils were 6 AK 47 Rifles, a PKT Machine Gun, and 5 Magazines.
The inventory also included 20 rounds of 7.62MM Special ammunition, 3 Mobile phones, 2 Solar Panels, and even a sewing machine.
Adding to the tally of the recovered goods was a sum of N2,410,000, a financial boost that underscores the operational success.
Among the poignant stories of this operation, the rescue of 9 victims from Sokoto State shines as a beacon of hope.
Reunited with their loved ones, these survivors serve as a testament to the unwavering dedication of the troops.
However, amid the triumph, a poignant loss casts a shadow, as 1 female abducted victim fell victim to the bandits' gunfire during the heroic clash.
Her memory lives on, forever etched in the annals of this operation.
As the dust settles and Zamfara State breathes a sigh of relief, Operation Hadarin's gallant efforts stand as a reminder of the resilience and bravery that define our security forces.