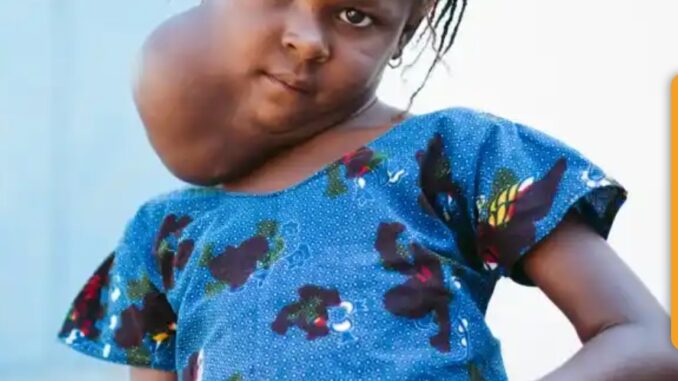 Mercy Ships, in collaboration with African nations, is bringing surgical training and life-changing procedures to individuals in need.
Mercy Ships, a renowned international faith-based charity, has been instrumental in providing surgical care and training to local healthcare professionals in African nations.
Prime Video Presents LOL Nigeria: A Hilarious Battle Of Wit And Laughter
Over the past three decades, this extraordinary organization has partnered with African nations and local organizations to improve surgical infrastructure and transform the lives of individuals in need.
In this article, we delve into the inspiring story of Hamadou, a courageous four-year-old boy from eastern Senegal, whose life took a remarkable turn after receiving life-transforming surgery from Mercy Ships.
Hamadou's Journey
Hamadou was born with a cleft lip, a condition that not only affected his physical abilities but also had a profound impact on his social interactions.
Sadly, his parents could not afford the surgery required to correct the cleft lip. As a result, Hamadou faced challenges in swallowing, eating, and even attending school.
In his community, the simple act of sharing water from a common pot became a hurdle due to the stigma associated with his condition. Despite the hardships, Hamadou's parents remained by his side, offering unwavering support.
Mercy Ships' Arrival
The turning point in Hamadou's life came when his family learned about Mercy Ships' presence in the port of Dakar, Senegal.
Mercy Ships operates two hospital ships, including the Africa Mercy, which deliver free surgical care to individuals lacking access to such treatment. The news filled Hamadou's parents with hope, and they were overjoyed when their son was cleared for the much-needed surgery.
A Fighter's Spirit
Upon Hamadou's arrival on the Africa Mercy, American nurse Mary Toupin recognized his indomitable spirit. Despite living his entire life with a cleft lip, this little boy exhibited remarkable courage.
Mary explained how infants with cleft lip struggle with eating due to difficulties in suction and drinking milk.
However, Hamadou's resilience stood out, as he defied the odds. Lily Orcel, a volunteer pediatric nurse from France, expressed her admiration for Mercy Ships' ability to transform the lives of individuals like Hamadou, who had endured treatable conditions for years.
A New Beginning
Following the successful surgery, Hamadou's face gradually returned to normal, and a radiant smile adorned his face like never before.
Discharged from the Africa Mercy hospital, Hamadou and his mother, Hawa, returned to their home in Senegal's Tambacounda region. The surgery had come just in time for Hamadou to pursue his dreams, unimpeded by his condition.
With a deep passion for technology waiting to be nurtured, Hamadou was now ready to embark on his educational journey.
Technology's Role
Hamadou's affinity for technology became evident during his time on the hospital ship, where he caught the attention of volunteer videographer Eugene Ampadu from Ghana.
Witnessing the joy on Hamadou's face as he engaged with technology, Eugene realized the profound impact it had on the young boy.
In Eugene's words, patients like Hamadou not only experience physical healing but also rediscover their inherent gifts and talents, offering a renewed sense of hope.
Mercy Ships' Dedication
Mercy Ships, with its team of over 3,000 volunteers from 60 different countries, operates the world's largest civilian hospital ships—the Africa Mercy and the Global Mercy.
These selfless individuals contribute their expertise and passion to provide life-changing surgical care to those in need. Through partnerships with African nations and local organizations, Mercy Ships continues to revolutionize surgical training and infrastructure, ensuring sustainable healthcare development in the region.
Hamadou's story is just one example of the countless lives transformed by Mercy Ships. With their unwavering commitment to providing surgical care and training, this extraordinary organization has become a beacon of hope for individuals in Africa and beyond.
Through their collaborative efforts, Mercy Ships and their dedicated volunteers are bridging the gap in surgical care, empowering communities, and shaping a brighter future for generations to come.