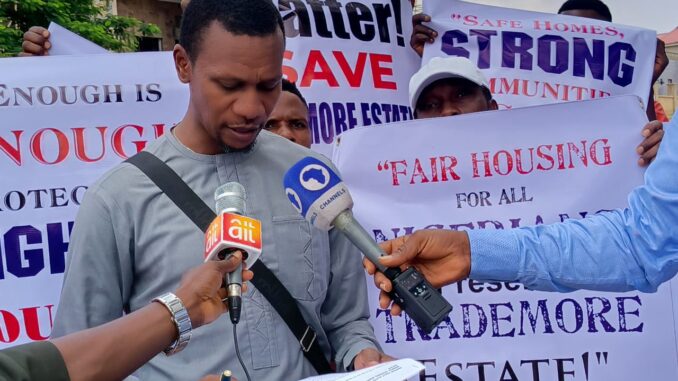 ….Urges media to amplify their message against grace justice
By ABUBAKAR YUNUSA, Abuja
Civil rights advocacy group, Human Rights Writers Association of Nigeria, HURIWA,has called on the permanent secretary Federal Capital Territory Administration, FCTA,Olusade Adesola, to immediately halt all plans for the demolition.
It also urged the media to amplify our message and shine a light on this grave injustice. Together, let us hold the authorities accountable and ensure that the voices of the affected residents are heard.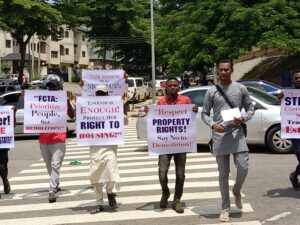 Addressing the journalists during the peaceful rally held in Abuja yesterday, its National Coordinator, Comrade Emmanuel Onwubiko called upon the FCTA to uphold the rule of law and protect the rights of its citizens.
We demand that the FCTA reconsider their plans and seek alternative solutions to address any concerns regarding flooding and safety without destroying the homes of innocent families.
Emmanuel , represented by Kennedy Onyegbado said "We condemn the actions of the FCTA and call upon the Permanent Secretary, Olusade Adesola, to immediately halt all plans for the demolition.
He said "The estate was developed in 2007, with the developer rightfully allocated the land and obtaining Development Plan Approval and these houses were built with substantial bank loans and adhere to the approved plans.
"
To demolish them now would be an act of gross injustice, undermining the very principles of fairness, legality, and due process.
Speaking Further ,"We express our concern over the recurring collapse of buildings within Abuja. The recent collapse in the Lifecamp area is yet another reminder that the FCTA officials must prioritize the safety and well-being of residents.
"We call upon the authorities to conduct a thorough investigation into these incidents and take immediate measures to ensure the structural integrity of buildings across the Federal Capital Territory.
"We stand in solidarity with the residents of Trademore Estate, who have protested and petitioned the FCTA in an effort to save their homes.
"They refute claims that the estate lacks development plan approval, highlighting the fact that it was developed in 2007 and has not experienced any flooding until recently.Their fight is not just for themselves but for every Nigerian who dreams of owning a safe and affordable home.